We're big fans of all forms of research sharing and with Open Data Day 2020 coming up on March 7th, what better way to celebrate open data sharing than with Addgene's AAV Data Hub! We launched this pilot in 2019 as an open science platform for scientists using Addgene AAV viral preps to easily find and share useful technical data. These data focus on experimental design and usage of these tools, which aren't always easy to find in publications, so this is a much-needed community resource. Instead of painstakingly searching for experimental details in research articles, scientists can use the AAV Data Hub to quickly find details they need for planning their next experiments using a specific AAV tool. They can search the database by certain features like serotype, promoter, or tool type and each entry contains an image along with key experimental details (e.g. titer, injection site, animal strain used). Similar to the goodwill of Addgene plasmid depositors, this growing resource of over 100 entries is driven by the dedicated community of data-contributing researchers who use AAV tools.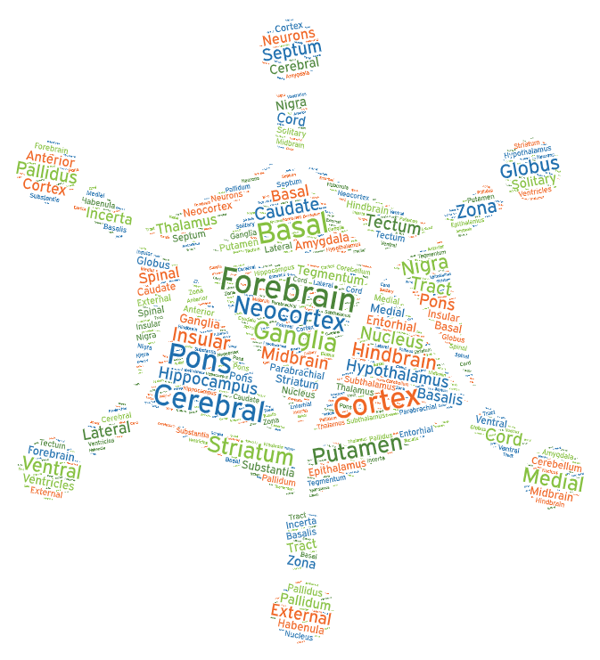 This word cloud (using wordart.com) represents contributed data on brain injection site from the AAV data hub.
How to share your AAV data
Do you use Addgene AAV tools and want to join the ranks of our growing group of Addgene AAV data sharing champions? If you've recently used Addgene AAV tools, we invite you to contribute your data to grow this resource for the community. There are a few simple steps you can take to input your data for sharing on the site. The entry form has 5 general question types and it takes approximately 15 minutes or less if you have all of your data prepared. All of these questions relate to factors that you should have already recorded as good reproducible and record-keeping practice. In fact, when you're running your next AAV experiment, use these questions as a guide for designing your future injection experiments. Have your data or lab notebook handy?
Contact info: Give us your contact information so we can follow up with you if we have any questions and so that we can give you recognition for sharing your data.


Materials: What virus and serotype did you use and what animal subject did you use? For animal subjects it is helpful to report the genetic background and catalog number or RRID if it exists. This is helpful because viewers will know exactly which strain you used so if they wish to replicate your experiment, they know exactly where to get that strain.


Experimental design & methods: These questions are focused on injection and detection methods. For example, you can provide location, titer dose (Example: 1E13 GC/mL) and subject age at time of injection. How long post-injection did you wait until performing the experiment? What detection methods did you use for expression of AAV cargo? Did you use GCaMP expression? Direct Fluorescence? Immunohistochemistry? Did you use any relevant animal treatment conditions like drugs (Chemogenetics) or light (Optogenetics) to activate receptors? If you're in the process of designing your experiment, read our blog post on important considerations when using AAVs.


Experimental results: These are your observations and assessment of your experimental results. For example, if you visualized expression after AAV injection, what region and cell class ended up expressing your virus? If you were using a genetic tool, did it operate as expected? If your experiment did not work, we also take negative data, which is equally important to report. We recently published a paper in Frontiers in Neuroanatomy and summarized some considerations for precise neuronal targeting using AAV on our blog.


Image:

The final and required step requires submission of an experimental image result that you generated with a caption. For microscopy images, please include channel imaged, a color legend for probes/dyes/labels, type of microscope used, and objective used. If you did not generate the image yourself and it is under copyright, you will need to obtain written approval from the copyright owner and will have the opportunity to cite the image to give proper attribution.
We hope that this provides a clear overview of what you need to submit data. Please note that the data hub is currently still in beta version, so we're always looking for ways to improve the viewing or data deposition experience. If after submitting or viewing the data you have any feedback at all, we'd appreciate you sharing it through this form.
In honor of Open Data Day we'd like to give a shoutout to all of those dedicated scientists who have contributed to the AAV Data Hub. If you haven't yet, we encourage you to share your AAV data on the hub, all for the good of growing this open data resource and accelerating reproducible research.
Share your data on AAV data hub!
---
Related resources on the Addgene blog
Resources on Addgene.org
Topics: Viral Vectors, Addgene's Viral Service