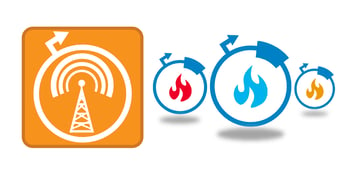 We're breaking into more audio and video on the Addgene Blog and Addgene website. As we push forward with these efforts, you'll find new ways to learn about science careers, lab protocols, and, of course, plasmids. Today we're trying a new way to present plasmid info with a new segment on the Addgene podcast - The Hot Plasmids Segment. Click on the player below to listen to a quick (~5 min) Hot Plasmids podcast that introduces you to 4 new plasmid technologies from one of our recent newsletters.
Listen to the entire Hot Plasmids episode!
We generally publish 5-10 Hot Plasmid articles with each of our newsletters. You can find all of these articles on the Hot Plasmids webpage. If you haven't got time to sit down and read through each one, plug in some headphones to learn more about the latest and greatest plasmids through this podcast segment.
Below, we break down each of the Hot Plasmids segments into its own (highly Tweetable!) audio clip. In the future, you'll be able to access these snippets here or from their respective articles on the Hot Plasmid webpage.
We hope you enjoy this new way to learn about plasmid technologies. If you have any comments about the Hot Plasmids Podcast Segment, or have recommendations for new Hot Plasmids topics, let us know in the comments section below.
Hot plasmids covered in this segment
Hot Plasmid 1: CRISPR X from Michael Bassik's Lab - A new tool for making diverse, localized point mutations.
Listen to Our Segment on CRISPR X
Hot Plasmid 2: Magneto 2.0 form Ali Guler's Lab - Control neuronal activity with a magnetic field.
Listen to Our Segment on Magneto 2.0
Hot Plasmid 3: The Human Kinase Domain Constructs Kit from John Chodera's Lab - Get high expression of His-tagged human kinases in bactera.
Listen to Our Segment on The Human Kinase Domain Constructs Kit
Hot Plasmid 4: The Yeast Prototrophy Kit from Markus Ralser's Lab - Use this kit to complement unused auxotrophies in Saccharomyces strains.
Listen to Our Segment on The Yeast Prototrophy Kit
---
Special thanks to our sound engineer/producer, Eddy Page!

Edward B. Page is a Digital Media Production Specialist at Addgene. He is the audio engineer and producer for the Addgene Podcast.
Additional Resources on the Addgene Blog
Resources at Addgene.org