Relationships need nurturing. Perhaps you've met someone interesting at an event. Or, perhaps you have a colleague who seems fun and helpful who you'd like to get to know better. Networking is not about how many contacts you have; it's about building genuine relationships with people you care about knowing. How do you follow up with new connections and build the relationship in a non-awkward way?
7 ways to strengthen your new relationships
Here are some ways to go about strengthening a new relationship with authenticity and not discomfort:
Invite the new contact to

connect on LinkedIn

and always include a personal note about where you met and what you discussed. Do this in a timely manner (within a few days or a week) so they can easily recall the encounter. As a side note, my guess is that people will not be exchanging business cards for awhile or ever so your LinkedIn profile link can be your new card.
Follow your contact's company on LinkedIn (or via industry newsletters such as FiercePharma), or

sign up to be alerted

about their new publications via Pubmed, so you can congratulate them when there's good news.
Send an email if you have something to ask or say. It can be as simple as "it was nice meeting you." Include follow-up questions or requests for advice based on your discussion. Perhaps you have a paper, protocol, or other information that may be helpful or of interest to them. Don't send a long email. If you have more to say, email again or set up a meeting.
If you really got along well, suggest a coffee chat in the near future. Even just one more meeting (in person or virtually) will make the relationship stronger.
If appropriate, invite them to speak for your organization, mentoring group, or department. Even if it doesn't work out, it's flattering to ask.
Show appreciation. Send a thank you note or gift to someone who helped you succeed in any way. Don't believe people who tell you that thank you isn't necessary. I once got a box of 6 perfect, chocolate-covered strawberries for helping with an introduction that helped someone get a job interview. Even just a thank you email would have been enough, but I'll never forget the strawberries. Grand gestures are memorable!
Attend events for one organization or go to the same conferences/meetings over and over to get to know the regulars (or better yet,

become a volunteer

). Naturally running into or working with the same people is often the easiest way to build relationships and strengthen them over time.
Things to avoid when following up with your new connections
Here are a few things you probably don't want to do:
Don't connect via LinkedIn with strangers. It's a waste of time. People that don't know you, can't really help you. The exception is having a mutual acquaintance connect you to someone who you need to speak to for informational or career purposes.
Don't only talk about work or ask for things. Connect with people by discussing non-work topics and interests. Offer help when you can, instead of just asking for favors.
Don't focus on networking with "important" or senior people. Focus on building relationships with peers and people around you naturally. This approach is much more likely to pay off in the long run.
Don't worry about the people that don't respond; focus on the nice people who do respond. Don't call or email multiple times if you don't get a response. It breaks an important law of networking--don't be creepy. There is a person on LinkedIn I once helped by answering one simple question so I accepted the connection invitation. They now message me frequently and ask me how I'm doing with nothing else to talk about. I know absolutely nothing about them and they don't know me. It's a waste of our time.
Networking connections can last years
This is a graphic snapshot of my LinkedIn network from a few years ago using a now defunct (but fun) plug-in called Maps.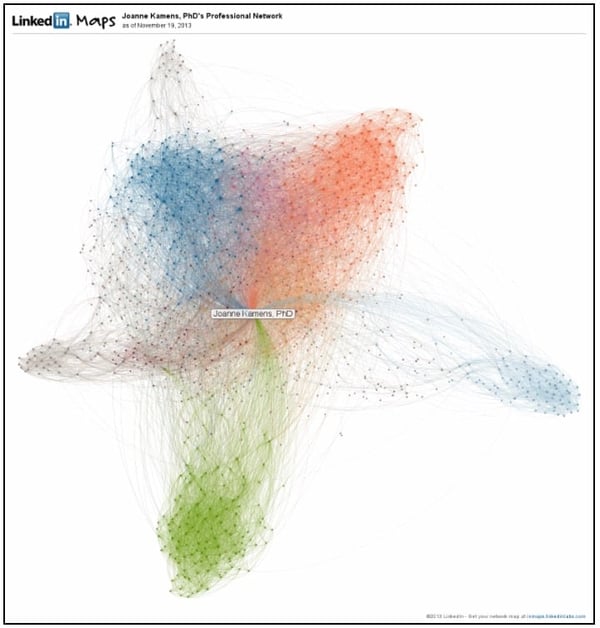 Figure 1: See a starfish? This is actually a map of Joanne Kamen's LinkedIn network! The connections between members of her network give rise to a starfish shape.
You can ask me about the different arms of this starfish sometime, but as of yesterday, I have 4,700 LinkedIn connections. I mention this because I want it to be clear that it is completely impossible for me or anyone to stay in touch with all of their connections on a regular basis. It is also not at all necessary. Once you've talked with a person a few times, if it was a positive experience for you both, they will be there when you need them. I guess the bottom line is meet people, don't be a jerk and it will be fine.
When I was in graduate school, there was only one other person in my class who had children. When I had my baby, we became closer. She supported me and answered my questions and honestly, she was the only person who really understood what I was going through. (Parenthetically, when I called the lab to ask my benchmate to take my plates out of the incubator because I'd had a baby that night, all he said was "OK" and hung up on me). I went on to a job in pharma and she followed an academic career path. Through a twist of fate, we got back in touch when I was visiting UMich and she turned out to be the faculty advisor to the postdoc association. It was 25 years since our last contact, but we were delighted to be reconnected.
Science can be a small community and you will come across your contacts over the years in many different ways. This leads me to my last tip: It's usually not worth connecting with people you don't like or who do not show interest in you. Network with the people that you want to be with. Then, the following up will be easy.
---
Additional resources on the Addgene blog
Topics: Science Careers, Networking