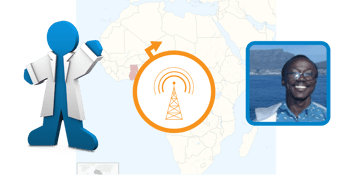 In this episode of the Addgene Podcast, we sit down with Kwabena Duedu, a researcher at the University of Health and Allied Sciences in Ghana. He's done research at a number of institutions in Ghana and most recently got his PhD in cell and molecular biology at the University of Edinburgh where he worked on developing novel systems for bioconversion of cellulosic biomass to useful products under Professor Christopher E. French.

Dr. Duedu was recently awarded plasmids from Addgene as a successful applicant to the Addgene, Seeding Labs Plasmid Grant. For this grant, we're working with fellow nonprofit, Seeding Labs, to distribute plasmids to researchers in developing regions and thereby accelerate their research. Kwabena came across the plasmid grant in Seeding Lab's Newsletter and recently visited Cambridge to spend some time learning and doing research at Novartis.
Listen to learn how Kwabena plans to use his research experiences as well as plasmids from Addgene to bring new opportunities to Ghanaian scientists
Click here to listen!
Podcast breakdown
(Time : Topic)
0:00 - 7:11 : Introduction - Ghanaian scientist's molecular biology needs and why Kwabena applied for the Addgene, Seeding Labs plasmid grant.
7:12 - 7:11 : Kwabena's work in Christopher E. French's Lab at the University of Edinburgh - synthetic biology, DNA assembly methods, and engineering cellulose degradation.
18:21 - 23:26 : Kwabena's plans for work in Ghana - Using local biomass "waste" to produce biofuels.
23:27 - 25:50 : Why Kwabena chose to go back to Ghana after his PhD and the need to de-mystify molecular biology.
25:51 - 30:56 : Further biology work in Ghana - Building a bioresource to attract research funding. Using current resources to develop microbiology and molecular biology research programs.
30:57 - 40:16 : Kwabena's public health research, the HEAD outreach program, and educating the public about dietary health.
40:17 - 44:14 : Microbiome research - working with bacterial communities both on the human body and on foods.
44:15 - 46:34 : Kwabena's goal to build biological science opportunities in Ghana.
46:35 - end : Kwabena's time in Boston - Developing microbiome expertise.
---
Many thanks to Kwabena Duedu for taking the time to sit down and talk with us.

Kwabena Duedu, PhD is a researcher at the University of Health and Allied Sciences in Ghana. He is a recent recipient of the Addgene, Seeding Labs Plasmid grant and is working on a variety of projects in Ghana.
Special thanks to our sound engineer/producer, Eddy Page!

Edward B. Page is a Digital Media Production Specialist at Addgene. He is the audio engineer and producer for the Addgene Podcast.
Additional Resources on the Addgene Blog
Resources on Addgene.org