Mark your calendars for November 16-20, 2020 for #DepositorWeek on Twitter!
That's today through Friday.
There will be trivia, prizes, and more!
We wanted to take a week to celebrate the scientists who make a big impact in open science. Depositors consistently contribute to our collection so that we can offer the scientific community the latest and greatest plasmid tools! Thank you depositors!
In fact, this year, Addgene depositors quickly stepped up to make COVID-19 reagents available to researchers across the globe very quickly. There are over 2,300 COVID-19 related plasmids currently in Addgene's repository which have been requested about 1,500 times from labs in 45 countries*. While the bulk of these plasmid deposits came in this year, there were some plasmids deposited as early as 2006 that have helped scientists around the world quickly get started with COVID-19 research (check out this article in the GSA's blog Genes to Genomes about a TMPRSS2 plasmid from Roger Reeve's lab as an example).
Depositor Week will be fun for everyone, whether you are a depositor or not. We will have Addgene trivia (with prizes!), polls, and shout outs, and we'll be featuring the work of the Addgene community. Perhaps you'll find plasmids and new tools that will speed your science along? We'll also take a look back on some fascinating Addgene history that you might not have known about.
Here's the schedule for the week:
Monday: Fun stats and trivia begins!
Tuesday: Depositor features (plasmid deposits and blog posts showcasing the work of depositors)
Wednesday: Why deposit?
Thursday: Throwback Thursday (Blue Flame awards and Addgene history)
Friday: Wrap up!
To show the magnitude of plasmid sharing over the years, we crunched the numbers (shout out to Addgenie Priyanka Ramanathan for the data!) and found that plasmid deposits come from 49 countries* and reached 102 countries. We started from 474 plasmid deposits in 2014 which has grown to ~10,000 plasmid deposits per year in recent years. Despite COVID-19 and lab closures, we're expecting to reach ~14,000 plasmids deposited this year once they all get processed and become available into 2021.
Check out the infographic below for some Addgene depositor fun facts for a quick way to grasp the big impacts depositors have on science globally.
*All data presented in this blog post includes data until November 9, 2020. Between then and the posting of the blog post, we just received news of deposits coming from two new countries bringing the total to 51 countries with plasmid deposits!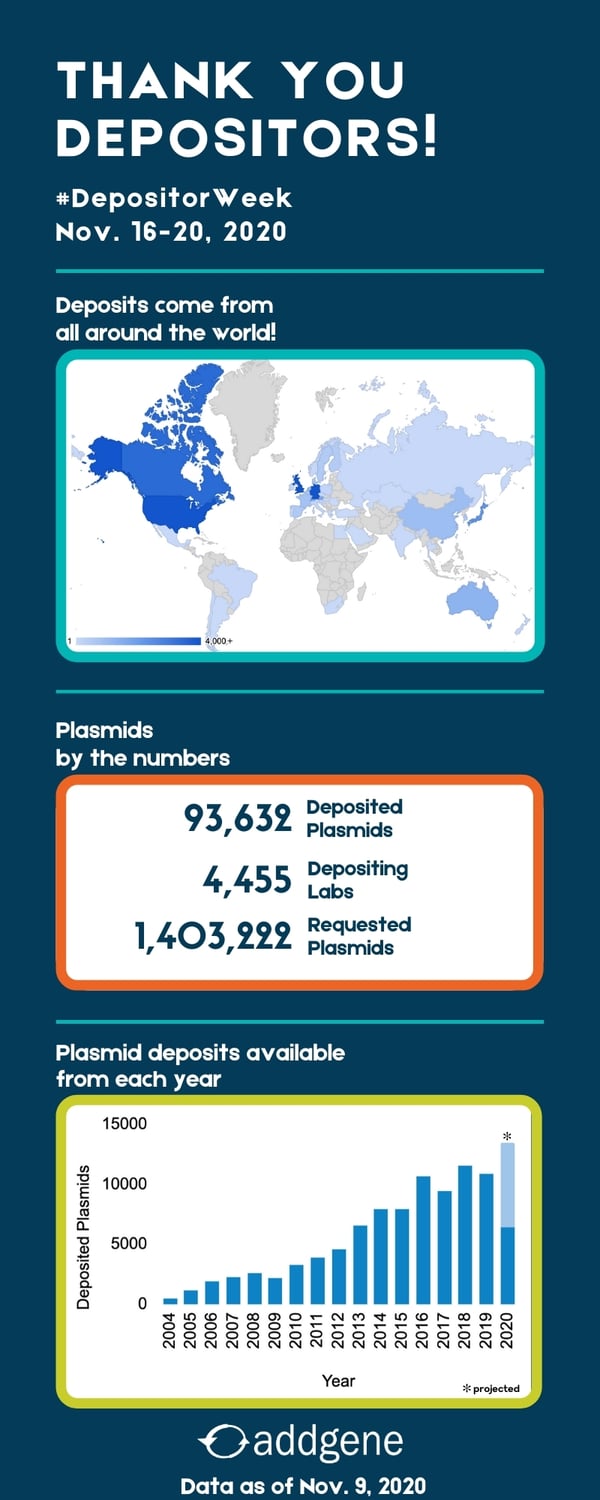 ---
Topics: Fun at Addgene, Addgene News