Biotechnology is no longer just for those working in academia or industry. At BosLab, we identify ourselves as part of a network of independent Do-it-Yourself (DIY) biology laboratories working towards enabling everyone to participate in the biotech revolution. Our lab exists in what appears to be a funky old garage, but looks can be deceiving. Step into this building and you will find a bike kitchen on the first floor and upstairs you will find our fully-equipped laboratory for citizen scientists. In addition to maintaining a laboratory to support both individual and community science projects, we offer classes, workshops, book clubs, seminars, and social events.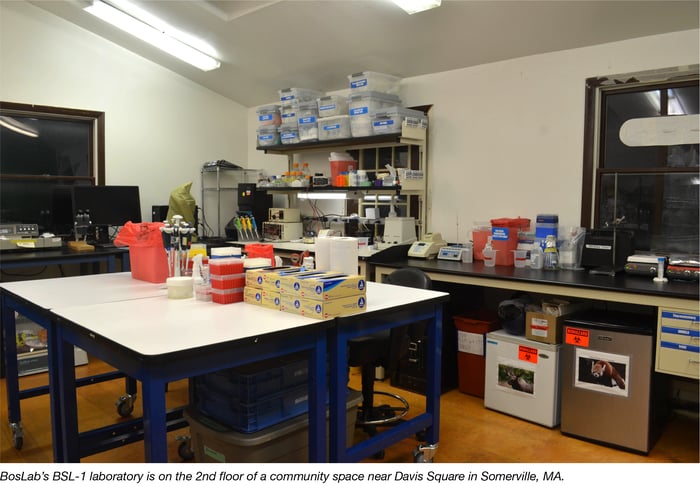 Building a community science lab
In the Fall of 2015, there were six of us. We were initially strangers but we all shared a passion for DIY Biology and, on occasion, would meet in the same space where BosLab exists today. Back then, it consisted of "wooden slab benches" set on top of filing cabinets, a rickety old incubator, a few pipettes, and some home-made equipment. It was humble in comparison to the labs you'd find in Kendall square, but we saw the potential in the space and decided to reactivate it. We started out by holding a few journal club events and soon realized that it was easy to find people who were interested. For example, our journal club discussion on Kevin Esvelt's CRISPR/Cas9 gene drive paper was very popular.
People kept asking if we were teaching classes at the lab, so in December 2015 we held our first intro to bacterial transformation course (read our blog post on it and to see old pictures of the lab!). By 2016, we wanted to be taken seriously so we made it official by registering BosLab inc. as a nonprofit organization in the state of Massachusetts. Because we're conveniently located next to a major Biotech hub, building up our lab was easy. Most of our equipment has been donated by local companies and BosLab has grown into an organization consisting of over twenty members and volunteers.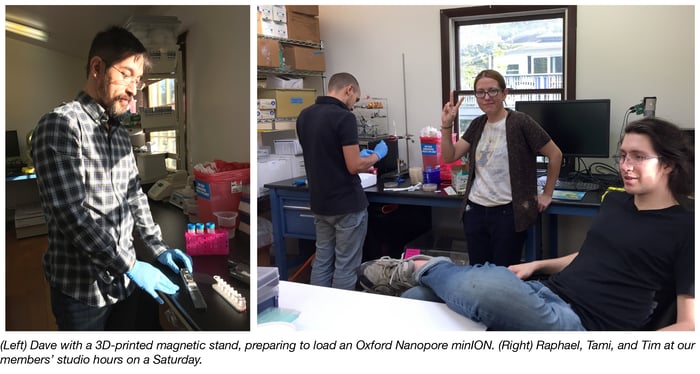 Transforming citizens into scientists
Anyone can become a member of BosLab and previous laboratory experience is not required. Our members are skilled with audiovisual media, software engineering, business consulting, mathematics, and more. That's right, we have non-traditional scientists working in our laboratory! Don't worry though, we make sure that everyone gets proper equipment and safety training prior to getting started. For example, Timothy Stiles joined BosLab last year with a computer science degree and had zero pipetting experience. However, after a few months of dedicated time at BosLab, he became our bacterial transformation guru and instructor for our intro to biohacking courses.
Our members pursue a diverse range of projects at BosLab. Some are entrepreneurs using our space to perform early-stage experiments. For example, Dave Grawoig is using nanopore sequencing at BosLab to perform proof-of-concept experiments for discovering novel therapeutics. Dave is a chemical biologist with a Ph.D. from UNC-Chapel Hill and has extensive experience targeting RNA with small molecules. Other members' projects range from hacking probiotics to filming educational lab videos, while some are looking to develop new skill sets. Kellen Andrilenas is a Ph.D. grad student at Boston University studying mammalian immunology, and in his free time, he is pursuing a plant engineering project at BosLab. Once he optimizes plant cell culture and transgenesis he wants to share his knowledge with the community by teaching a DIY plant engineering workshop.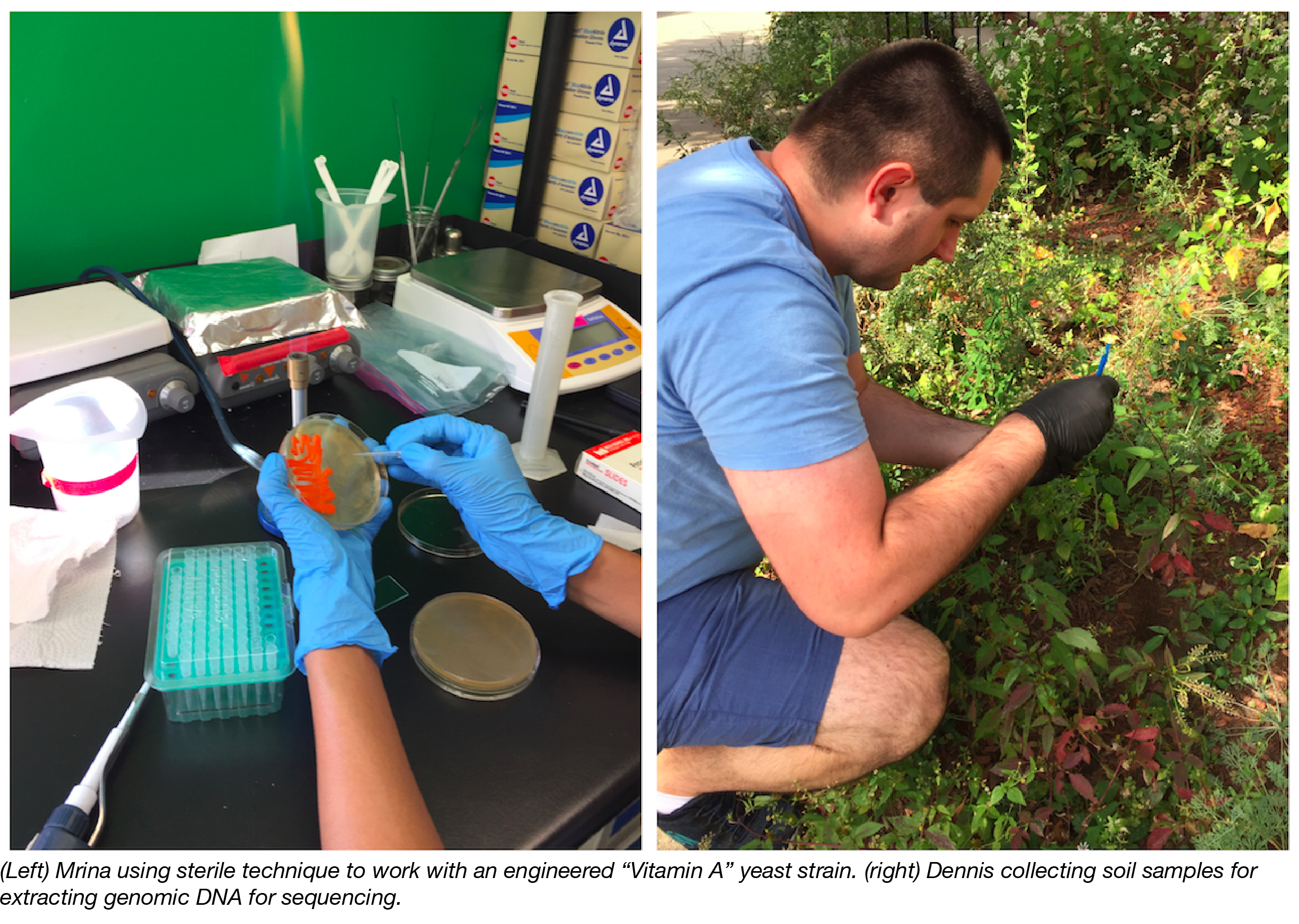 Community projects at BosLab
Not all of our members start out with personal projects in mind. Thus, to encourage more involvement and provide all our members the opportunity to do molecular biology, we've developed community projects. Recently, Timothy Stiles and Mrina Nikrad have started the Open Yeast Engineering Project (OYEP). Through this project, community members will engineer yeast to glow, produce synthetic scents, detect compounds in the environment, and openly publish protocols so that anyone can engineer yeast to do similar things. The focus is to make yeast engineering accessible to everyone but these projects could also lead to novel yeast creations that may not be pursued in an academic or industry lab. Mrina Nikrad, Ph.D., is an expert in microbial ecology but she became a member at BosLab because she wants to engineer microbes. We've ordered a few yeast plasmids from Addgene and are eager to do our first yeast transformations!
Dennis Oleksyuk, Raphael Laurenceau, and Tami Pudina have initiated a soil microbiome project. This project was inspired by previous city-wide genomic studies and our study will involve getting the community to collect various soil samples, extract DNA, sequence it, and analyze the data to characterize the microbiomes of the different samples. The goal is to not only learn something about the microbial diversity in different soil conditions/locations but to engage the local community (including local garden and compost clubs) to participate in this study.
How to get involved with DIY bio
If you're not in the Boston area but are inspired to get involved, check out the local groups page on DIYBio.org to find a community lab in a city near you. To learn more about what we're up to or how you can help BosLab, visit our website and follow us on twitter or facebook. If you are local, join us for our next event on meetup.com!
---
Many thanks to our guest blogger Angela Kaczmarczyk!

Angela Kaczmarczyk is a co-organizer at BosLab, a community biotech laboratory in Somerville MA. Follow her on twitter at @ZebraElement
Additional Resources on the Addgene Blog
Resources at Addgene.org
Topics: Scientific Sharing, Open Science