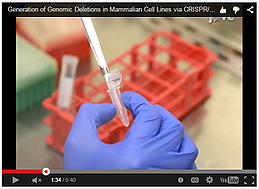 The following post was contributed by Daniel Bauer and Matthew Canver of Boston Children's Hospital and Harvard Medical School. Addgene is proud to present a video reprint of the CRISPR article "Generation of Genomic Deletions in Mammalian Cell Lines via CRISPR/Cas9" from the Journal of Visualized Experiments (JOVE). The video publication by Stuart Orkin and Daniel Bauer's labs details the use of CRISPR/Cas9 to create genomic deletions in mammalian cell lines. Below Bauer and Canver discuss the motivations behind this research.
Using CRISPR/Cas9 for targeted genomic deletions
We were inspired to produce intrachromosomal deletions based on the experiments of Kim and colleagues using zinc finger nucleases to harness non-homologous end joining repair (NHEJ) [1]. Our initial work was with TALENs, in collaboration with the Porteus lab [2]. With the advent of CRISPR/Cas9, we began to explore the paired double-strand break (DSB) approach at a variety of loci. We were pleasantly surprised by the efficiency of the method. One observation was an inverse relationship between deletion size and frequency [3].
There are several applications in which the production of deletions by paired DSBs may be particularly useful. The first is the study of non-coding regulatory elements. Regulatory DNA function is typically inferred based on correlative biochemical characteristics and ectopic reporter assays. We have been interested in exploring the function of non-coding regulatory elements in their native chromatin context. An alternate outcome to deletions following paired DSBs is inversions [3]. These rearranged segments may also be informative as to genomic function.
A second use of targeted deletions is to produce monoallelic deletion clones. Cells with just a single intact copy at a given locus may be useful to study haploinsufficiency. Subsequent modifications at the remaining allele within the deletion boundaries may be produced to generate clonal allelic series.
Single DSBs resolved by NHEJ at coding sequences often result in loss-of-function frameshift mutations. However these may require restriction fragment length polymorphism analysis, allele-specific PCR, T7EN1 cleavage assay, sequencing, RT-qPCR, or immunoblotting to detect. Another approach is to target two exonic sites within a single gene using paired DSBs. This method allows for deletion screening by conventional PCR. Biallelically disrupted cells can be easily identified. Even in the case of clones with monoallelic deletion, the nondeleted allele is likely to bear an indel or inversion mutation [3].
In the CRISPR era, the genomic landscape may be surveyed in unprecedented fashion. Targeted deletions are just one of many available strategies by which biologists can imagine, create, and examine novel genetic configurations.
Watch the following video to learn Daniel and Matthew's procedures. The video details how to transfect CRISPR plasmids into MEL cells by electroporation, sort your transfected cells via FACS, primer validation, and screening by PCR for biallelic deletion clones:
Like the video? The Orkin and Bauer lab's related paper describes their methods for CRISPR design, cloning, and delivery, as well as their techniques for creating deletions, identifying these deletions, and finally characterization. Read and download the full protocol from the JOVE article here on Addgene's website and find more CRISPR resources.
---
Thank you to our guest bloggers!

Daniel Bauer is a pediatric hematologist and principal investigator at Boston Children's Hospital and Harvard Medical School. His lab studies the molecular genetics of blood cell development and disease. Learn more at his webpage, bauerlab.org.

Matthew Canver is an MD/PhD student at Harvard Medical School in the laboratories of Stuart Orkin and Daniel Bauer. He received his BSE in Bioengineering from the University of Pennsylvania.
References:
1. Lee HJ, Kim E, Kim JS. Targeted chromosomal deletions in human cells using zinc finger nucleases. Genome Res. 2010 Jan;20(1):81-89.
PubMed
.
2. Bauer DE, Kamran SC, Lessard S, Xu J, Fujiwara Y, Lin C, et al. An erythroid enhancer of BCL11A subject to genetic variation determines fetal hemoglobin level. Science 2013 Oct 11;342(6155):253-257.
PubMed
.
3. Canver MC, Bauer DE, Dass A, Yien YY, Chung J, Masuda T, et al. Characterization of genomic deletion efficiency mediated by clustered regularly interspaced palindromic repeats (CRISPR)/Cas9 nuclease system in mammalian cells. J.Biol.Chem. 2014 Aug 1;289(31):21312-21324.
PubMed
.
More CRISPR Refereces:
---
Topics: CRISPR, CRISPR Protocols and Tips