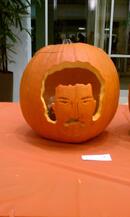 Halloween is only 2 days away and here at Addgene we couldn't be more excited! As a small, tight-knit organization we thrive on 3 things: fun, teamwork, and competition. And our Halloween celebration this Friday will combine all of these.

Addgenies have been organizing Halloween festivities for years – searching our photo archives I found pictures back through 2009, though I suspect that our costume contests were indeed occurring earlier but that the photo evidence was destroyed to protect the innocent revelers. Our Halloween costume contests have become an annual tradition in which we choose our teams and start brainstorming months in advance. Our teams comb the news (pop culture events of the past year obviously make for good costumes), science and our plasmid collection (what science has been hot this year and how do you creatively turn it into an outfit?), and of course there's always nostalgia (old board games and movies can provide great character costumes).
All of this costume planning is for a good cause… Winning! The team with the best costume takes home the ultimate prize – a glorious trophy. Sure it's plastic and you have to share 1 trophy among 6 people, but you've earned bragging rights for the next 12 months. Your team's creativity, cleverness, and crafting skills have surpassed your colleagues. Success is sweet – as sweet as all that Halloween candy you'll gorge yourself on in the coming days.
Hopefully, I've made clear how excited we get for Halloween and how seriously we take costume design. In case you need more convincing, I've got just the proof: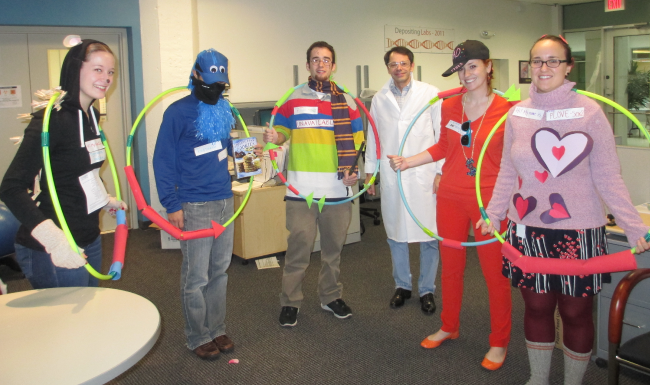 Above our office team shows their love of plasmids! Each chose their favorite plasmid and replicated it. Can you guess each plasmid?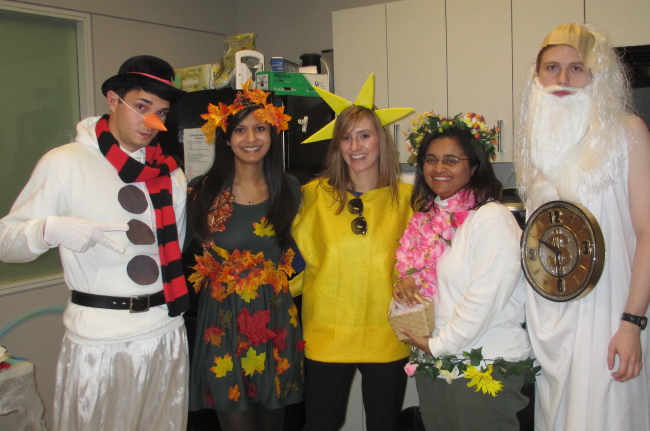 Our lab paid tribute to the changing seasons – and they also invited Father Time to the party. They won over our judges with this costume in 2012.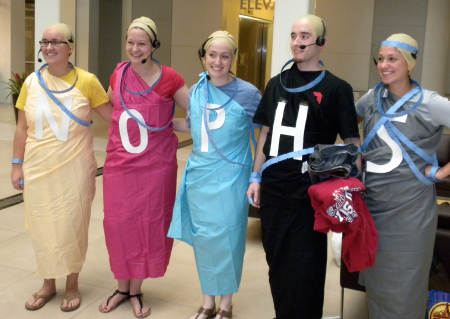 The Office Team was back up to their creative hijinks last year. They showed us their dedication to great customer support by dressing up as our Zendesk email system.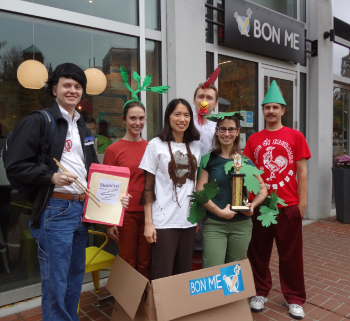 Our 2013 winners dressed up as Addgene's favorite lunch... a BonMe noodle meal, crammed right into the box.
Which is your favorite team costume so far? Do you have any suggestions for this year's teams that may be procrastinating choosing their costume?
As our organization has grown, we continue to have an amazing turnout for the annual Halloween costume, so I expect some great costumes this Friday. So if you're interested in finding out who wins this year's Addgene costume contest, like us on Facebook and checkout our FB page on Friday for more photo evidence.
Topics: Fun at Addgene, Addgene News