---
With a collection of over 70,000 plasmids, kits, and viral service items we employ dozens of pieces of energy-intensive lab equipment on a daily basis. By the beginning of September all will be powered by 100% renewable electricity!
A (not so) shocking transition
In early July the Town of Watertown announced the creation of an "electricity aggregation program" for all local households and businesses. Electricity aggregation allows a community like Watertown to bulk purchase energy from a higher percentage of renewable sources. This program offers options of between 14% - 100% electricity supplied from renewable sources and we have chosen to participate at the highest level offered. As a result, we will be drawing 100% of our electricity from renewable energy projects right here in New England- the majority of which are solar, wind, or hydroelectric in nature.
The operation of -80C and -20C freezer temperatures, biosafety cabinet ventilation, and lab lighting/HVAC requires a significant energy expenditure here at Addgene. These are critical systems that cannot be removed or substantially reduced in an attempt to save energy. The transition to 100% renewable electricity will allow us to maintain these particularly energy-intensive systems in a more environmentally responsible manner.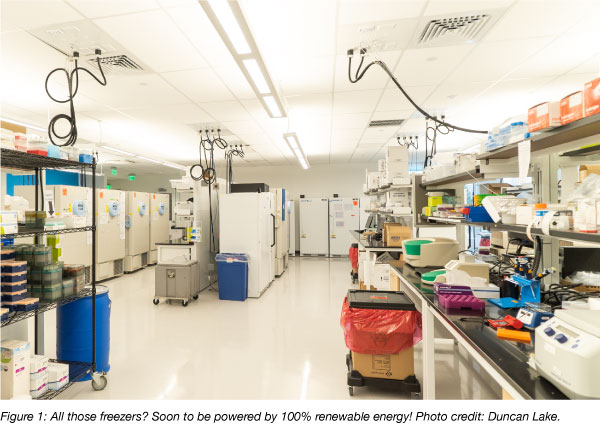 Other ways to make the office more eco-friendly
The switch to 100% renewable electricity is certainly not the only sustainability effort we've implemented at Addgene. The kitchen and office areas provide multiple streams for composting and recycling in the event the object in question cannot be washed or reused/repurposed in some fashion.
Addgenies swapping out printer cartridges can place the spent cartridge in the large cardboard box in the copy area. These spent cartridges are returned to Xerox for recycle and reuse, reducing the need for the production of new plastic.
Recycling and reuse is not limited to the office, however. We participate in many styrofoam and plastic recycling programs in the lab as well. For a more in-depth look at Addgene's current lab-oriented environmental efforts check out Leila Haery's blog series, "Bringing Sustainable Practices to the Lab."
Whether participating in an existing process or proposing new programs, we're always striving to set an example of environmental stewardship.
---
Additional resources on the Addgene blog
Resources on Addgene.org