As an undergraduate student at Northeastern University, I am required to complete a six month work experience called a co-op to receive a degree. Northeastern compiles a list of hundreds of different jobs for students to apply to, and after a grueling two months of job hunting and interviews, I accepted a position at Addgene as a marketing and social media co-op. There are a lot of different worries that come along with entering the workforce, but my main concerns were building strong connections with coworkers and doing something meaningful with my career.
I can't pinpoint exactly when I realized I had made the right decision to choose Addgene for my co-op, but I know it didn't take long. It may have been at one of my first "All Addgene" meetings, when Melina, our CSO and co-founder, approached me and asked about my current projects and personal interests. We chatted about social media analytics and summer travel plans while eating lunch. There was something so special about her pure interest and curiosity to understand my work and me, especially as much of her focus is on the scientific work we do while mine is mainly within content and business.
Joining the Addgene crew!
This pattern was consistent: everyone I spoke with at Addgene, no matter their position/role, was both knowledgeable in their field and eager to engage with the work of others. Having an environment filled with people who are interested in understanding the work you do, in addition to being genuinely interested in knowing you as a person, builds a strong sense of trust between coworkers. Since I trusted my coworkers so much, I knew that I was ready to take on anything and everything that came my way.
One of the bigger projects I was tasked with was creating and sustaining a biweekly report of our social media analytics, something that had never been done at Addgene before. This meant I was responsible for establishing a new report and routine across the marketing and content team. Initially, I was excited but overwhelmed; I had no idea where to start. Thankfully, my managers set aside time for me to complete an online social media certification on social media data, and I was given a fantastic spreadsheet template to build out a report on. I was able to understand what metrics would be useful and how to organize the metrics in a digestible manner.
At first, the numbers I presented at biweekly meetings didn't seem much more than numbers. As time passed, and I participated in the discussions, I began to note trends in the data, and from that, suggest changes to our social media strategy. We ended up implementing some of these changes and seeing early results that suggest our content is reaching more people who need it! After a few months, we wanted to share these, and other, findings with the larger content and marketing team, and I started preparing for my first official professional presentation.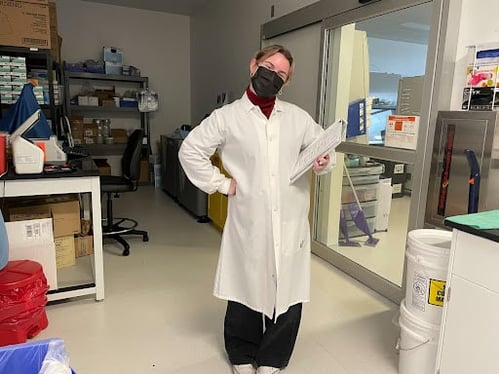 My first time in the lab! I got to assist production on a protocol video. Don't worry - no pipettes were harmed in the making of this photo!
Here, I was also given a mixture of support and independence that allowed me to succeed. As a team, we talked through slide design, discussion items, big takeaways, and timing. The sense of trust and comfort I had with my teammates acted as my safety net and trampoline all at once. I was able to do something that was challenging while helping us share our resources better with the community and knowing my coworkers were only a Slack message away.
When it finally came time for me to present, I thought I would be extremely nervous (I mean I WAS presenting to three department leads, I probably should have been nervous), but I wasn't. The presentation went along smoothly and was followed with great discussion and questions. I achieved my goal of helping everyone understand the importance of using analytics to make decisions on content strategy. I really believe that the culture at Addgene cultivates trust between coworkers and that trust then translated into this incredible experience.
Of course, I wasn't presenting to upper management and building out social media spreadsheets every day of my co-op. I had to do research on loads of different best practices, create an email strategy, and make the occasional TikTok. I was also responsible for typical entry level tasks such as stuffing new depositor welcome kits, note taking for protocol video production, and keeping inventory of our merchandise collection. While most days I was up to my neck in to-dos, I also found time to go out to sushi restaurants for lunch with coworkers and visit the office's unofficial fourth mascot, Olive the dog.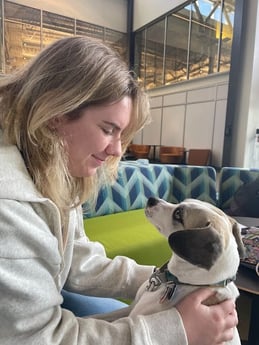 Cuddles at Olive's office hours!
As my time here comes to an end, my worries about making connections with coworkers seem, in retrospect, nonsensical. I have found the people at Addgene have become my friends, mentors, and some of my favorite people to talk to. This six month experience made me more confident in myself, my abilities, and my future - something I didn't expect from a co-op experience.

Sarah Gordon is a rising junior at Northeastern and Addgene co-op studying communications, marketing, and global fashion studies. She hopes to work in marketing/PR one day. In her free time, she enjoys reading, petting dogs, and winning the office Just Dance competition.
---
Special thanks to my manager, Sr. Marketing Generalist, Steven; the Sr. Marketing Manager, Lynn, and everyone else on the marketing and content teams for their help and support throughout the past six months!
Topics: Fun at Addgene, Other