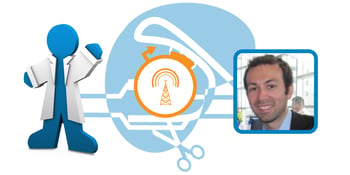 In this episode of the Addgene podcast, we sit down with Alex Chavez, a Clinical Fellow in Pathology at Masachusetts General Hospital and Postdoctoral Fellow in the Church and Collins labs at the Wyss institute for Biologically Inspired Engineering. Alex is the first MD PhD we've had on the podcast, has worked extensively with CRISPR, and recently became a member of the Addgene advisory board where he will help shape Addgene's future. Listen to this episode for insights into the process of getting an MD PhD, the inside scoop on developing new CRISPR tools, and the potential uses of gene drives.
Podcast breakdown
(Time : Topic)
0:00 - 2:00 : Introduction to the podcast from producers Tyler Ford and Eddy Page.
2:00 - 3:55 : Alex introduces himself and explains why he decided to do an MD PhD - it's all in the family.
3:56 - 7:04 : Alex describes the MD PhD process and explains why he loved the first 2 years of medical school.
7:05 - 10:55 : Alex's focus during graduate school - DNA damage and longevity.
10:56 - 12:00 : How Alex's work in DNA repair informed his decision to work with CRISPR during his postdoc
12:01 - 13:21 : The Wyss Institute for Biologically Inspired Engineering and why Alex decided to work there.
13:22 - 22:07 : Alex's projects at the Wyss Institute - New CRISPR tools and the importance of moving on from "failed projects."
22:08 - 29:53 : Alex explains how gene drives work and what work he's planning on doing with CRISPR-based gene drives focusing on safety and the ability to generate mutant microbial strains faster than ever before.
29:54 - 31:25 : Nature's defenses against gene drives.
31:26 - 33:08 : Plans for future work at the Wyss Institute.
33:09 - end : How Alex hopes to help Addgene advance - plants for trimmed down protocols, distribution of new materials (check out our new Viral Service), and educational outreach.
---
Many thanks to Alex Chavez for taking the time to sit down and talk with us.

Alejandro (Alex) Chavez is a member of the Addgene Scientific Advisory Board with a particular interest in generating Cas9 based tools to enable facile control of DNA and RNA.
Special thanks to our sound engineer/producer, Eddy Page!

Edward B. Page is a Digital Media Production Specialist at Addgene. He is the audio engineer and producer for the Addgene Podcast.
Additional Resources on the Addgene Blog
Resources on Addgene.org