In the middle of 2016 Addgene started distributing a small but growing catalog of ready-made AAV and Lentiviral preps. This new Viral Service represents Addgene's largest new initiative since we started distributing plasmids in 2004. We've already distributed over 500 viral samples to scientists all over the world. Now that the service is successfully launched, I would like to thank some of the people and organizations who helped us reach this milestone.
Viral service supporters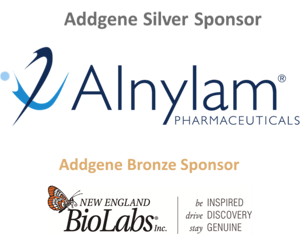 We would like to thank the companies who supported this project with funding. Alnylam and New England Biolabs sponsored the capital construction of our new BL2+ laboratory and the infrastructure capabilities to produce and distribute virus. Addgene is a 501(c)3 nonprofit and our plasmid service was started based on donations. That seed money was used to build a completely self-supporting service so that Addgene is not dependent on grants. Aiming to operate under a similar model for our Viral Service, we solicited seed money for the new project. New England Biolabs and Alnylam see the value to the scientific community in accelerating the Viral Service. With their support we are able to provide faster access to a larger number of viral preps.
Visit our Sponsors and Supporters Page
Thank you to all of our generous, sharing depositors. Over 3,000 laboratories are sharing plasmids (with 16 labs currently sharing viral preps) through the Addgene repository. Without these scientists and the support of their technology transfer offices, Addgene would not be able to have such an impact on scientific materials sharing.
I would also like to recognize a few scientists who have gone the extra mile for this particular project. John Doench and David Root from the Broad Institute and Alex Chavez from the Wyss Institute were instrumental in helping us establish consistent, high-quality protocols for lentiviral production. Bryan Roth's lab from the University of North Carolina, Connie Cepko's lab from Harvard Medical School, and Jonathan Ting's lab from the Allen Institute have supported the AAV initiative from the beginning and have worked closely with us to functionally test our virus. Ed Boyden's lab from MIT and Alla Karpova's lab from Janelia Research Campus have provided valuable insight into AAV production.

Finally, we are blessed to have an incredibly supportive Board of Directors at Addgene. Our Board helps keep our focus on assisting scientists and accelerating research and discovery, while also pushing us to challenge assumptions, holding us to nonprofit best practices and encouraging us to explore new directions. I would like to thank them for their time, dedication, advice and encouragement.
Why virus?
Why did we decide to take on this project? Addgene's mission is to Accelerate research and discovery by improving access to useful research materials and information. Addgene has been successful in helping thousands of sharing scientists from laboratories all over the world. With this reach and exposure in the community, we saw the opportunity to leverage our recognition, further fulfilling our mission for an even bigger impact. In early 2016 we surveyed hundreds of scientists about various ways we might expand Addgene's services. There was an overwhelmingly positive response to the option of Addgene providing plasmids in a ready-to-use viral format.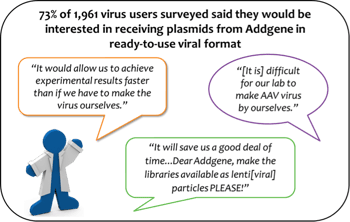 Having identified this need in the community, we approached it in the way Addgene approaches everything; we asked ourselves, "How can we do this in a way that most helps scientists and allows us to maintain Addgene's high quality standards?" Under the leadership of Addgene's co-founder, Melina Fan, we created a new team to push this project forward. The viral vector project team develops methods, performs extensive quality control, generates educational materials, and provides viral vector technical service (details about virus production protocols and quality control can be found on Addgene's Viral Production webpage).
While the new team took the lead on operationalizing viral production and distribution, this project involved every Addgenie in the company. Our Finance, Business and Legal teams had to pave the way for this project with many depositors and partners. The Addgene Scientist Team has been developing expertise in answering questions on virus and helping provide educational resources on this collection. With their expertise in shipping hundreds of plasmids a day, the Lab and Office Teams develop shipping systems and protocols for viral vectors to reach scientists around the world. Our Software Engineering Team (and, added in 2018, our Product Team) continues to make improvements to our website and inventory management systems to make way in our systems for this new type of material. The Outreach Team is getting the word out about this new resource and providing fantastically useful educational content on viral vectors.
How Addgene's Viral Service will help scientists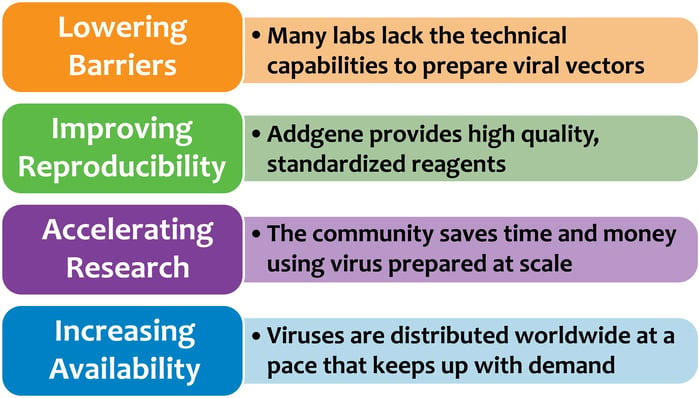 Good science isn't the only facet of a project this big. Maintaining our excellent service and accuracy involves caring and careful Addgenies, but also a lot of good tracking. Our Software and IT Teams made major upgrades to our inventory management systems to enable efficient, tracked production and distribution of viral samples. The Office Team made sure we could ship internationally and be ready to provide extensive logistics support for export and shipping on dry ice. The Business and Finance Teams continue to facilitate the formation of partnerships to expand the service and figure out what we can afford to do and when. Addgene's Legal Team acquired permission from relevant plasmid depositors and their institutions to distribute viral preps derived from plasmids in the repository. The Outreach Team has been making sure scientists know about the new initiative and serving all the new educational content via the Addgene Blog and our expanding website resources.
I hope this gave you the impression that it took a lot of work and dedication to do this well ... because it did. So finally, a big thank you to the Addgenies who went the extra mile to create this new service. We knew the scientists were waiting. I look forward to sharing new developments on this project and on all the interesting things going on at Addgene. Sharing speeds science and we are proud to be adding viral vector services to our repertoire.
---
Additional Resources on the Addgene Blog
Resources at Addgene.org
Topics: Viral Vectors, Addgene's Viral Service