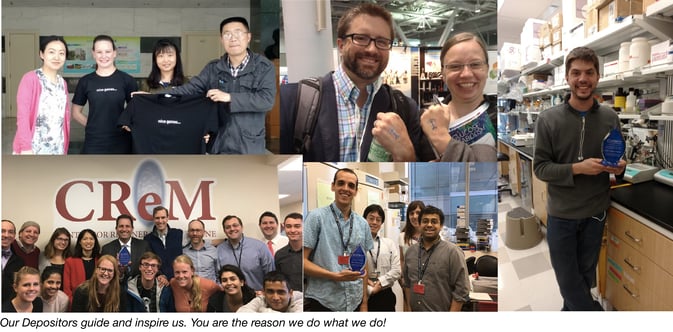 When you think of a "nonprofit" organization what do you think of? Maybe the term brings to mind a social service organization like the Red Cross or the American Cancer Society, or maybe you think about a local food pantry or community arts organization. Many people are surprised to learn that Addgene is officially filed, recognized and operated as a nonprofit under the United States Internal Revenue Code 501(c)(3). That means we were formed to benefit the public, not private interests. On this nonprofit awareness day, we layout the ways in which we promote our mission and work to enable researchers around the world.
We take this responsibility seriously. Every decision we make, every project we undertake and every service we provide is tested against fulfilling our mission.
"Addgene's nonprofit mission: Accelerate research and discovery by improving access to useful research materials and information."
Addgene is here to help scientists accomplish their goals. Many nonprofits must spend a lot of resources continuously raising money from donations or grants to fulfill their mission. Addgene is fortunate in that we are able to fulfill our mission by generating revenue through distribution of research materials. Our small shipping and handling fees drive our work. As we have grown we have been able to continuously improve all the extra services we provide like quality control, curation, technical service and open-access educational resources.
What is a nonprofit?
The term "nonprofit" is a bit misleading. Nonprofits can generate revenue (as Addgene does through materials distribution). In fact, healthy nonprofits should have some level of positive revenue to build reserves so the company is sustainable. The difference is what nonprofits do with their revenue. A nonprofit organization cannot distribute profits to private individuals through stock or investor pay outs. Addgene has no investors or stock. All of our proceeds go into running the repository and serving scientists better. That includes keeping fees as low as possible to ensure that our materials are affordable but enough to make us self-sustaining. With this unique model, we are able to spend resources on maintaining quality and starting new initiatives as opposed to fundraising.
Aside from enabling us to make all decisions with the goal of benefiting our scientific community, what other reasons do we like being a nonprofit? One big reason is that scientists and technology transfer offices trust us to work for them with full transparency. We don't have to explain that the materials shared through Addgene are being used for research purposes and not for a profit motive. We build this trust by keeping excellent records and maintaining confidentiality where it is appropriate. This grows our relationship with our community members.
We also find that, as a nonprofit, we attract partnerships with organizations that share our community-oriented values. Addgenies like the nonprofit company culture as well. We work every day to do a better job of enabling more scientists in labs all over the world to gain access to new materials and information.
Core values drive decisions at Addgene
If you're ever curious what specifically drives the decision making process at Addgene, just look to our core values. These accurately reflect our culture and outlook:
Addgene increases productivity by providing

world-wide

access

to curated, high-quality data and reagents

Addgene makes it

easy for scientists to deposit and request plasmids (via web interface, processes, distribution, and customer service)

Addgene provides unmatched

customer service

that is consistently timely, informative, friendly, and professional

Addgene is a

thought leader in scientific sharing, leading by example to increase sharing in the community

Addgene fosters a culture of

respect, collaboration, and fun

Addgene believes there is strength in

diversity

and in empowering team members to take

initiative

and give their best



As we continue to grow, we will always look for new ways to serve the research community. Questions? Feel free to reach out to us on Twitter, Facebook, LinkedIn, email, or even the comments section of this post. We feel GREAT when you send us thank you notes and recognition. You are why we do what we do.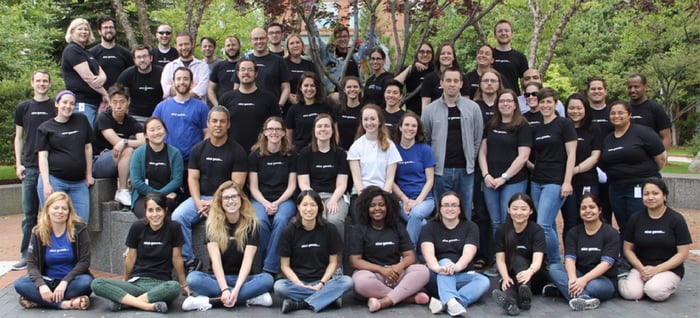 From all of us to all of you. Thanks for supporting nonprofit, open science and Addgene in our mission to accelerate research with easier sharing and collaboration.
Joanne and all the Addgenies: Adam, Amanda H., Amanda Y., Andrew, Andy, Ben, Benoit, Bria, Brook, Bryan, Caroline, Cayla, Chiara, David, Diana, Dolly, Eddy, Emma, Eric, Gizela, Henry, Ina, Inna, Ishrat, Jane, Jason, Jessica, Joel, Jonathan, Justine, Karen, Kate, Kayla, Kelly, Kory, Kris, Leila, Lianna, Luke, Marcy, Mary, Max, Maya, Meghan, Melina, Meron, Michael Lo., Michael Le., Michel, Michelle, Morgan, Natashia, Nicole, Olivia, Pamela, Racheal, Ramsey, Randall, Ray, Rebecca, Renee, Shannon, Susanna, Tenisha, Thomas, Tony, Tracy, Tyler, Tyrel, Wogenie, and Xuan
Additional Resources on the Addgene Blog
Resources on Addgene.org
Topics: Addgene News