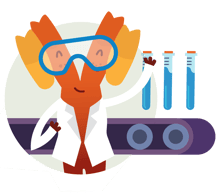 Addgene is thrilled to announce the launch of our latest community resource: Recombinant Antibodies! In addition to plasmids and viral vectors, you'll now be able to order ready-to-use antibodies for your experiments directly from Addgene.
How Addgene is Reimagining Antibody Sharing
Addgene is building our antibody resource, which includes recombinant antibodies, educational materials, protocols, and shared data, on our values of transparency, reproducibility, and community-building.
The transparency begins with sharing sequence information for the antibodies in our catalog, so that you will know exactly what you are working with. We will also be collecting feedback from the community about how the antibodies work in various applications, enabling you to better plan your experiments.
To promote reproducibility, Addgene will have unique Research Resource Identifiers (RRIDs) for each antibody, making it easy for you to determine whether any given antibody is available through different companies (Bandrowski et al., 2016). It's also been well established that recombinant antibodies are excellent for reproducibility because they do not share hybridomas' genomic drift or limited material from polyclonal animal preparations (Bradbury et al., 2015). All of Addgene's antibodies are plasmid-based and recombinant. Learn more about recombinant antibodies here.
Finally, Addgene is a nonprofit that connects colleagues and is invested in improving research infrastructure, from our educational materials to our repository of open samples. We are, and have always been, a community resource that supports both toolmakers and tool users. We encourage you to share your recombinant antibodies via Addgene to maximize the reach and impact of your work. Please email deposit@addgene.org if you would like to contribute to the catalog.
The Catalog Will Start With Neuroscience Antibodies and Grow From There
Addgene's antibody resource is funded by a generous grant from the NIH's Brain Research Through Advancing Innovative Neurotechnologies® (BRAIN) Initiative. Our first collection of materials is being developed for scientists studying neuroscience and is available to both academic and industry scientists.


The collection of antibodies available at launch were created by James Trimmer, PhD, of the University of California Davis School of Medicine. This deposit includes frequently cited antibodies for use in brain imaging (Andrews et al., 2019), validated in both western blot and immunohistochemistry. Additionally, many of the hybridomas from which the recombinant antibodies are derived were tested for specificity in knock-out lines or animals.
Addgene will continue to add more antibodies, for neuroscience research and other disciplines, over time. The resource may also expand to include other affinity reagents, such as nanobodies and ScFvs, based on community demand.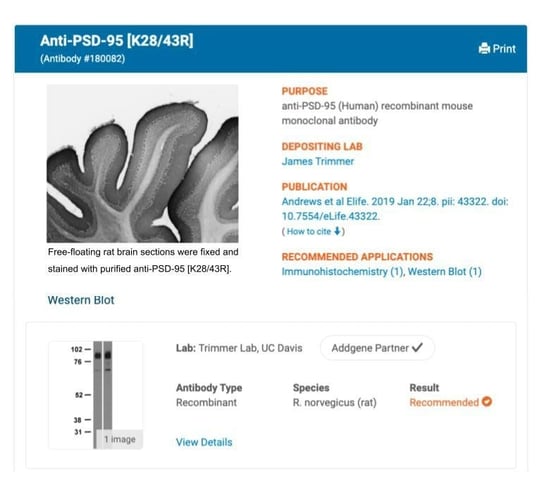 Figure 1: Antibody against PSD-95 from the Trimmer Lab. Information about the antibody, the target antigen, and performance in various applications are included in the full webpage.
Educational Resources
As part of our commitment to supporting your research, Addgene is creating an array of educational materials to accompany our antibody collection.
Addgene is sharing our protocols for recombinant antibody production as well as antibody applications. In addition, basic and advanced affinity reagents topics are discussed on Addgene's blog and Antibody Guide, which include information about immunofluorescence, conjugates, isotypes, and more.
How You Can Participate
Addgene will continue to add new antibodies and educational materials to the resource. We are excited to work with all of you to make this the best and most accessible recombinant antibody collection for advancing science. Here are some ways that you can participate:
If you make recombinant antibodies or other recombinant affinity reagents, share your plasmids via Addgene! Email

deposit@addgene.org

to learn more or get started.


If you have suggestions about how to make the resource better or ideas for new materials to add to the collection, please let us know by filling out this

suggestion form

.


As we build the collection, we hope that you will find useful antibodies for your research. Please consider sharing your experiences with antibodies from Addgene via our Antibody Data Hub once the database is available. This data will help the collection to become more useful to everyone over time.
Through our incredible community, including your support, we have enabled scientists to easily share plasmids with each other. Together, we can transform the antibody sharing landscape as well.
---
References
Andrews NP, Boeckman JX, Manning CF, Nguyen JT, Bechtold H, Dumitras C, Gong B, Nguyen K, van der List D, Murray KD, Engebrecht J, Trimmer JS (2019) A toolbox of IgG subclass-switched recombinant monoclonal antibodies for enhanced multiplex immunolabeling of brain. eLife 8:e43322. https://doi.org/10.7554/elife.43322
Bandrowski, AE, Martone, ME (2016) RRIDs: A Simple Step toward Improving Reproducibility through Rigor and Transparency of Experimental Methods. Neuron 90(3):434-6. https://doi.org/10.1016/j.neuron.2016.04.030
Bradbury A, Plückthun A (2015) Reproducibility: Standardize antibodies used in research. Nature 518:27–29. https://doi.org/10.1038/518027a
Resources
We would also like to acknowledge our colleagues at the Developmental Studies Hybridoma Bank, a nonprofit that has been supporting hybridoma sharing within the community for decades.
Educational Resources
The project is supported by a NIH BRAIN Initiative grant (U24NS119916 ). The content of this article is solely the responsibility of the authors and does not necessarily represent the official views of the National Institutes of Health.
Topics: Antibodies