We've recently begun expanding our presence in the microbiology community. For our first concrete steps into this field, we've curated microbiology plasmids from the repository onto one handy Microbiology Resource page and, just a few weeks ago, we attended the American Society for Microbiology's annual meeting (ASM Microbe 2016) for the first time. Our goals at the meeting were to network with scientists in this diverse and exciting field and to find out how we can serve them better. Here's a little bit of what we learned.
Check Out Our Microbiology Page!
The start of the conference
After setting up the Addgene booth on Thursday evening, I stayed to see the Opening Keynote address with Bill Gates. The long line for bag check was definitely worth it! Hearing about his passion for global health and the various initiatives the Gates' Foundation is involved with was one of the highlights of the conference. It was inspiring to see how microbiology research is improving lives worldwide and the presentation made it clear how important it is for us to improve our resources for this community.
Networking with microbiologists
Over the course of the conference Addgenies were lucky enough to meet hundreds of the over 11,000 conference registrants, including scientists from six continents who dropped by the booth. We were happy to chat with lots of researchers who weren't aware of Addgene's plasmid sharing services, as well as #happydepositors who stopped by to say hello. Needless to say we all got very good at applying temporary tattoos on the spot with our trusty spray bottles! We also raffled off one of our highly sought-after "nice genes…" tshirts, and the lucky winner was Shagun Sharma from the University of Akron, Ohio. Congratulations!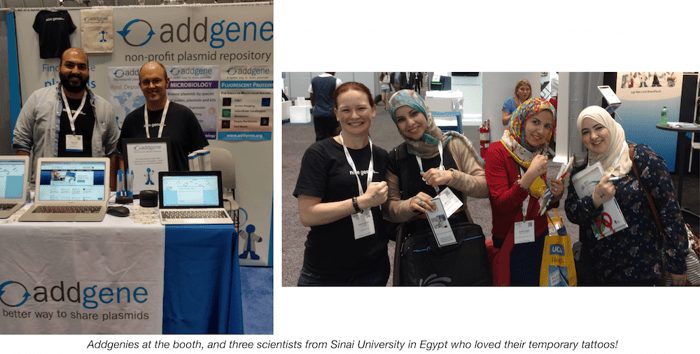 There was plenty of geeky fun to be had at ASM Microbe as well as the serious business of science. Two symposia on Sunday afternoon were dedicated to science communication through art. Addgene Advisory Board member Siouxsie Wiles gave us a fascinating and fun look at her outreach work with fluorescent microbes. Check out her animation about the Hawaiian bobtail squid!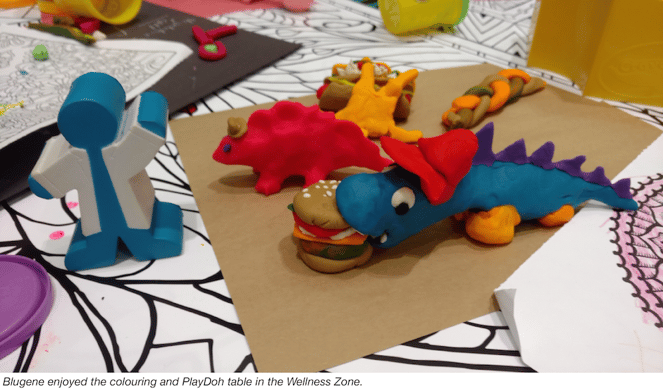 Continuing the art and science theme, the Artwalk on the exhibit floor had plenty of wonderfully nerdy art for sale, and photos of the Agar Art competition entries were displayed in a gallery on the second floor (I loved the Waterlilies one!). As we dive more into science education and outreach ourselves, we can a learn a lot from these ASM pros and hope to leverage their expertise as we advance our mission of sharing science.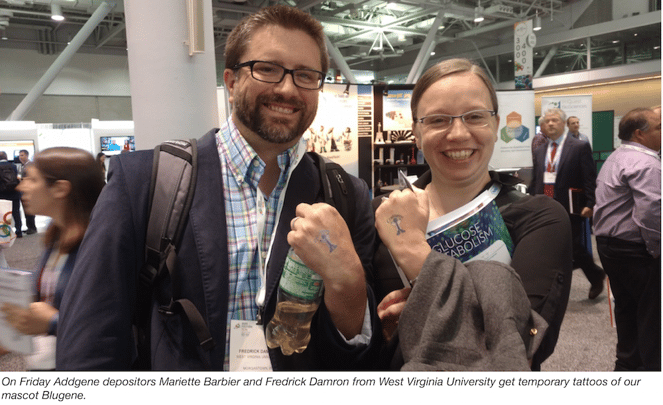 I got to check out many of the posters being presented at the conference and talked to some scientists who stopped by the booth about amazing work already represented in the Addgene repository (like these new Rainbow Bacterial Fluorescence Labeling Plasmids from the Barbier lab). Bright and early on Saturday morning, John Doench's opening presentation at the CRISPR screens symposia outlined the fantastic work this Broad Institute lab is doing creating well-optimized CRISPR screening technology. Addgene got several shout-outs for making popular screening libraries like Brie and Brunello available to the scientific community. However, from the nearly 4000 posters presented at the conference, it looks like there are plenty more exciting plasmid tools on the horizon for microbiology research and we'd love to help more microbiologists share these valuable resources!
Developing the Addgene microbiology community
#ASMMicrobe2016 was a great opportunity for Addgene to let microbiologists know about our mission of open science and resource sharing and was also a great place to catch up with former colleagues! I ran into past ASM President Tim Donohue (see below) on my way back from getting a badge illustrated with my favorite microorganism (Rhodobacter sphaeroides!) at the ASM booth. As well as being the Director of the Great Lakes Bioenergy Research Center and a fellow Rhodobacter enthusiast, Tim also hosted me at his University of Wisconsin lab for a summer during my PhD and is responsible for my enduring love of cheese curds.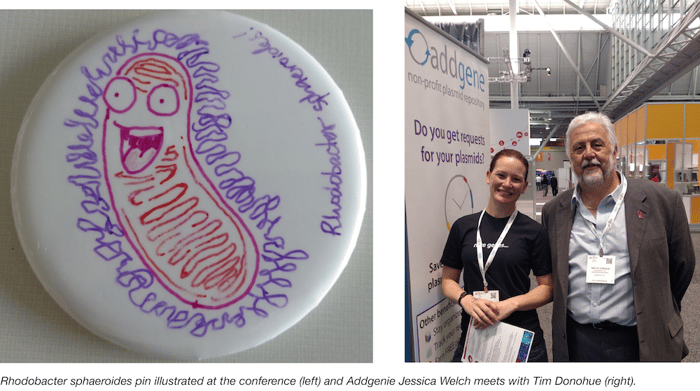 We'd love to develop our microbiology community even further. If you have a great new construct you'd like to share with the scientific community, contact deposit@addgene.org to find out more about our free deposit and distribution service!
Did you see a must-have plasmid during ASM? Let us know what's missing in the collection by filling out our Suggest a Plasmid Form. We look forward to helping microbiologists from all over the world easily access and share their materials!
---
Resources on the Addgene Blog
Resources on Addgene.org
Topics: Addgene News, Microbiology