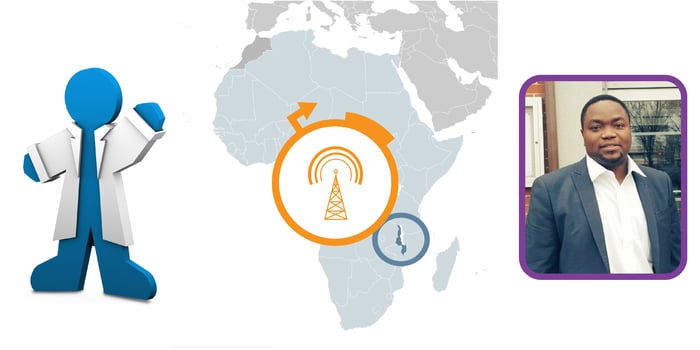 Born to a family in Malawi that pushed science education, Kingdom Kwapata grew up to be one of the best of the best students in his home country. He was selected as one of 600 scholars among 100,000 eligible to attend the University of Malawi where he focused on agricultural engineering through biotech. After graduating with a masters of science in Horticulutre Biotechnology, he did his PhD in Plant Breeding, Genetics, and Biotechnology at Michigan State University with the backing of a prestigious Fulbright Fellowship. Dr. Kwapata now works as a lecturer in molecular genetics and biotechnology for Horticulture and Forest Crops at the Lilongwe University of Agriculture and Natural Resources. He recently received an award from nonprofit and Addgene collaborator, Seeding Labs, for lab equipment that will help accelerate his research. Listen to learn more about Dr. Kwapata's current work and thoughts on the need for more scientific collaboration across the globe.
Podcast Breakdown
(Time: Topic)
0:00-1:00 : Intro
1:01-3:48 : Kingdom Kwapata's background and education
3:49-4:35 : Kingdom on opportunities to go into science in Malawi
4:36-5:46 : How Kingdom ended up working in the life sciences and agriculture
5:47-9:35 : Kingdom's biotechnology research at Michigan State University
9:36-10:29 : Kingdom's transition back to Malawi and Lilongwe University of Agriculture and Natural Resources
10:30-11:41 : Kingdom on the difficulties surrouding and need for biotech research in Malawi
11:41-14:53 : Kingdom's current projects producing transgenic crops
14:54-23:44 : Follow up Kingdom's PhD projects - HIV inhibitors, biofuels, challenges in Malawi, and more
23:45-28:07 : How Seeding Labs is helping advance Kingdom's research
28:08-END : Kingdom's Thoughts on his time in Boston and Outro
---
We'd like to thank Dr. Kwapata for taking the time to talk to us and Seeding Labs for connecting us with him. Learn more about our recent collaboration with Seeding Labs here.
Special thanks to our sound engineer/producer, Eddy Page!

Edward B. Page is a Digital Media Production Specialist at Addgene. He is the audio engineer and producer for the Addgene Podcast.
Additional Resources
Resources on the Addgene Blog
Resources on Addgene.org