This post was contributed by Johnna Roose. This post was originally published on Johnna's New Under The Sun Blog and is part of her larger tutorial series, A Beginner's Guide to Writing Scientific Manuscripts.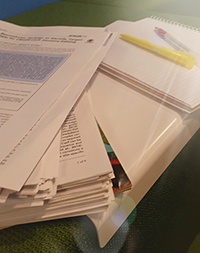 Any scientific manuscript will require numerous other references to scientific literature to substantiate the facts upon which it builds. This means you have to become familiar with a body of literature related to the topic. Finding reliable references and sorting out what they mean is no small task. As a scientist, it is useful to make literature searching and reading a regular part of your routine. Set a goal to read a certain number of papers each week to keep up with the research in your area. When you are in 'writing-mode' for a grant or a scientific manuscript, the reading will likely be more intense, but it is a general good practice to keep up with the scientific literature a little bit at a time.
Searching for literature
My go-to search engines for finding scientific literature are Google Scholar and PubMed. You can search keywords, titles, authors, year, narrow by article type (review, patent, clinical study, research article etc). There are also numerous options for narrowing down your search and sorting the results (relevance, dates etc). The links for the titles can generally take you to the full text of the article – via the journal (though you may need to be on a network with an institutional subscription), archived on PubMed Central, or in preprint onBioRXIV.
One of the biggest issues you will likely have is sifting through the long list of titles for something that is actually useful to you. When embarking on a new literature search, try to find a recent review article to give you an overview of the topic and point you to relevant primary research articles. Then just start reading and following citations through the literature until you have all of the information you need.
Reading primary research literature
The best way to understand scientific papers is to practice reading them. There's a learning curve for the jargon and background in your field, but sometimes papers are also just poorly written. By nature, scientific literature is information dense and since it continually builds on previous studies, the reader always enters in the middle of the action.
If the paper is well-written, the abstract should give you a sense of the importance of the work, the research that was done and what it means. The introduction should give you just enough information to allow you to understand the research question that will be addressed. In primary research papers, the introductions should be fairly focused. Consult a review article for a broader scope of what's going on in any given research area. Unless you are looking for a particular protocol or are trying to replicate an experiment, the methods section probably won't get much attention reading through an article for the first time.
The first time through, just get an idea of the techniques used in the research, but wait to sort out any of the finer details until you see the figures in the results section. As you're sorting through the results section, this is where the authors are showing you their data. They should explain some of the rationale behind the line of experiments, what data they collected and what it means. There should be some connection or flow among the figures and results that ultimately builds up to an overall conclusion(s).
In some articles, the data are presented to build a case for a certain model or overall conclusion. In others, the experiments are geared towards eliminating possibilities until the results focus in on a particular conclusion. Many papers aren't always written this way and there is a greater burden on the reader to interpret the results to see if it leads you to the same conclusion. Personally, I like papers that can end with some sort of model (cartoons are appreciated) to visually sum up all of the conclusions.
In any case, the reader should give a critical eye to all results in the relation to how they are supporting the conclusions. Look at the figures and write down your own results; are they the same as the description the authors give? Ask yourself if the results mean what the authors say they mean. Could there be any other possible interpretation of the results? Then think deeper about the data they are showing. Are those experiments the best way of figuring out what's going on? Is the data of sufficient quality (error bars, statistics, clarity in images etc)? Did they perform all of the appropriate controls? Refer back to the methods section for finer points of the protocols. Are there any red flags about how the work was performed that could influence the results?
The peer-review process is not perfect, so even though it is science's way of validating work prior to publication, it doesn't mean that there are no mistakes or misinterpretations. After all, the science was performed, written and evaluated by humans.
Keeping up with the literature
There are a few ways to make sure you are keeping up with the literature in your field of interest. Set aside some time each day or week to at least scan the titles of what's going on in your research area. Set a goal for paper-reading, even starting out at 1 paper/week will be useful. Check out the hashtag #365papers on Twitter for inspiration and accountability.
There are a few different ways to automate the process as well. Sign up for eTOC (electronic table of contents) alerts from journals you read often. The contents of each issue will be delivered to your inbox as soon as they are available. Give them a quick scan for interesting key words and download what seems interesting or relevant.
Harness the power of the Google search engine and sign up for Google Scholar alerts. Based on keywords that you provide, Google Scholar will send you daily updates with relevant literature.
Organizing the literature
As a scientist, you will begin to amass numerous downloaded PDF files of research articles. It's your own digital library for the full-text version of useful papers. For many, this collection is purely electronic. Gone are the days of file cabinets filled to the brim with reprints and papers with scribbled notations in the margins. If you prefer, printing and hand-writing notes is still possible, but not feasible for every paper you will ever read. So, you need to come up with an organization system that works for you. I have a folder where I dump all of my papers and they all have filenames (year first author name). It's rudimentary, but it works for me. I can often remember which paper I need to open, but when I can't it's an easy search. Writing this tutorial has shown me that I'm still in the dark ages with respect to my organization strategy. There are a number of software options for helping you manage your own digital library. Check out Papers and Mendeley – these programs offer more options for searching and sorting your own digital library as well as some integration with internet-wide literature searching. Update 5/6/2015:Here's another option that may help solve your literature organization issues – F1000 just announced the launch of their F1000Workspace.

Give your favorite searching, reading and organization tips in the comments below. Additionally, read more of the Beginner's Guide to Writing Scientific Manuscripts series on Johnna's blog.
---
Thank you to our guest blogger!

Johnna Roose is a biochemistry instructor in the Department of Biological Sciences at Louisiana State University. She is a fan of photosynthesis and writes about autotrophs and biochemistry on her blog. Follow her on Twitter @JLRoose.
Additional Resources:
---
Topics: Scientific Sharing, Scientific Publishing