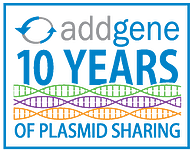 Addgene was founded 10 years ago today. In that time, Addgene has shipped over 350,000 individual plasmids to 5,000 different research institutions. This has given us a unique window into technology trends in the life sciences.
In this post, we'll give you an inside look at the Top 10 plasmid technologies distributed through Addgene over our first 10 years.
10 most distributed plasmid technologies
pSV-PGC1 - Ok, it's not actually a technology, but pSV-PGC1 was Addgene's first distributed plasmid and was created in the lab of my thesis advisor, Dr. Bruce Spiegelman. It was also the only plasmid distributed in our 1st year, 2004, and it still gets requested!




Fire Lab C. Elegans Kit - Our first popular "kit," Andrew Fire's set of vectors for C. elegans research was our most requested item of 2005.


shRNA - In

2006

, we saw an increase in popularity of empty backbones for shRNA expression, such as pLKO.1 puro and pLKO.1 – TRC cloning vector.


Lentiviral Plasmids - If you're familiar with the pLKO plasmids you'll note that those are lentiviral constructs. In 2007 we continued to see requests grow for lentiviral packaging and expression vectors, including pMD2.G and psPAX2. Actually, these two plasmids from Didier Trono's lab are our two most popular plasmids of the past 10 years.


Induced Pluripotent Stem (iPS) Cells - 2008 was marked by the influx of plasmids for reprogramming differentiated cells into pluripotent stem cells. Plasmids from Shinya Yamanaka's lab and James Thomson's lab were the most frequently requested.


Ubiquitin - One particular gene we saw increased interest in from 2008 to 2009 was ubiquitin. The most requested ubiquitin plasmids were pRK5-HA-Ubiquitin-WT and HA-Ubiquitin, and we now have 19 different ubiquitin plasmids in the repository.


100,000 Plasmids Shipped! - By 2010, Addgene had hit our stride. We shipped our 100,000th plasmid. A variety of plasmids continued to be popular years after they were added to the repository, including beta-catenin reporter M50 Super 8x TOPFlash, scramble shRNA

for use as a negative control

, and empty backbones such as pBABE-puro for retroviral expression and pLVTHM, a lentiviral plasmid for mammalian gene silencing.


TALENs - Genome engineering methods improved rapidly in 2011, from zinc finger nucleases to transcription activator-like effector nucleases (TALENs). Our most popular kit of the year was the Golden Gate TALEN Kit, which continues to be our most requested kit of the past 10 years.


Biosensors - Plasmids for fluorescent tagging have long been popular with scientists, but

2012

was marked by increased deposits (and requests) of biosensors, optogenetics, and other imaging tools. The GCaMP5 and GCaMP6 series of genetically encoded calcium indicators were the hot technology of the year in our collection.


CRISPR/Cas9 - At Addgene, 2013 will be known as the "Year of the CRISPR." The newest genome editing technology has been used and modified by so many labs and for so many different purposes that we had to create a CRISPR page to keep up with all the new plasmids. So far, we have distributed over 10,000 CRISPR/Cas9 plasmids to more than 3,000 labs around the world.
Thank you!
It's been a challenging and rewarding journey since starting Addgene. Thank you for inspiring us with your breakthrough research and your commitment to scientific sharing.
In the coming years, we will continue to improve our services and work to make sharing even easier. We can't wait to see what you put on the next Top 10 list.
10 years of plasmid sharing
Interested in more facts about Addgene's 10 years of plasmid sharing? Check out this infographic created by our own Addgenie, Laura Veckerelli. Click on the picture below to see the full graphic.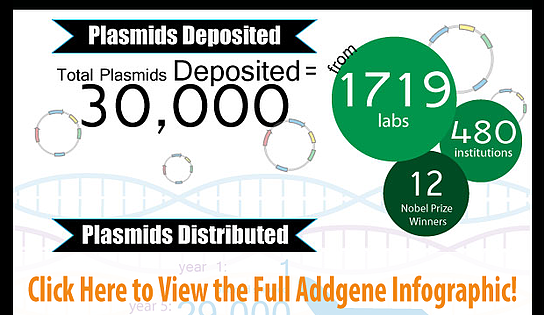 Topics: Addgene News