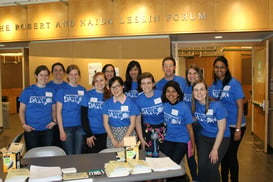 Here at Addgene, we're dedicated to advancing and sharing science! In association with the Harvard graduate student organization Science in the News (SITN), we recently sponsored a first-time event called DayCon. DayCon is a one-day conference aimed at the general public that provides an accessible introduction to various scientific topics. Over twenty graduate student volunteers worked hard to make this Saturday event a success, a true testament to the commitment of SITN members.
SITN and DayCon
Currently in its 16th year, Science in the News has two chief goals. First, SITN works to bridge the communication gap between scientists and the public and help make science more transparent. Second, SITN helps graduate students develop their communication skills and engage with the public. The organization runs a wide variety of programs, including fall and spring lecture series, science cafes, and Reddit AMAs. Their website also provides a variety of short- and long-form written content about timely scientific topics, as well as archived seminar presentations.
One of SITN's newest initiatives, DayCon was the brainchild of SITN co-director Steph Guerra, a 3rd year graduate student at Harvard, who wanted to provide a conference-style experience that was accessible to the general public both in terms of cost and content level. Sponsorship from Addgene and Harvard Integrated Life Sciences (HILS) made it possible to offer DayCon as a free event!

Organizing a Science Conference for the Public
How does one organize a public scientific conference? As a member of the DayCon Executive Board, I was fortunate to see the event planning unfold from the very beginning. The board picked a theme (Bio-Medley) to showcase SITN's strength in the biomedical sciences and decided to offer a varied format event to keep the audience engaged. The day kicked off with introductory lectures targeting three broad concepts: the genetic basis of disease, cancer, and viral infections. An interactive lunch with student presenters and board members enabled attendees to engage in small group discussions. The afternoon program mixed things up with a combination of shorter, more narrowly focused lectures, interactive panels, and a student poster session. All DayCon lecture content is open source and available on SITN's website.
65 audience members gave up a beautiful summer Saturday to learn about science, but they didn't seem to mind! Attendees consistently mentioned how pleased they were to learn about these exciting scientific topics at a level accessible to a layperson. They also enjoyed mingling with students and other attendees and getting the chance to hear more about what life is like as a student researcher.
The Future of DayCon
DayCon and other similar events show how meaningful science outreach can be, both for scientists and the public. For students, these opportunities to improve our communication and organizational skills provide great training for a number of alternative careers in science. In return, the public receives trustworthy, intelligible scientific resources. SITN hopes to make DayCon a yearly event and to expand the conference to accommodate a larger number of attendees. This first-year event's success is evidence that, to share science, all you need is a great idea and a group of people willing to make that idea a reality!
How do you share your science with the community? Addgene would love to hear about your efforts to engage the public - let us know in the comments section!
---
More information about SITN:
DayCon event website (includes archived content)
Check our other blog posts on sharing science: