Every student about to graduate shares the same nightmare: the question "So, what comes next?" For those finishing up an undergraduate education or ending a Master's program, the answer might be to continue in academia and pursue a PhD. However, if you're anything like me, the process of even applying to one of these programs is almost as daunting as the program itself. Picking a mentor comes with many challenges, and the flood of interview requests and visitation days can be, at times, very overwhelming. As someone who applied to PhD programs in Biology around the United States in 2021, I know that this process only became even more complicated with COVID-19 and standards for hybrid, virtual, and in-person events change seemingly daily (and are inconsistent between universities!) This guide tells you how to use online platforms, such as Zoom, to determine if a program is the right fit for you without the financial and logistical stress that accompanies traveling for campus visits. This is definitely an advantage of surviving in a virtual world over the course of the last few years: recognizing the importance and benefit of remote and video communication. But first, take a deep breath; at least you know you have an answer to that previous nosy question!
The Application Process
Broadly speaking, the PhD application process tends to go something like this: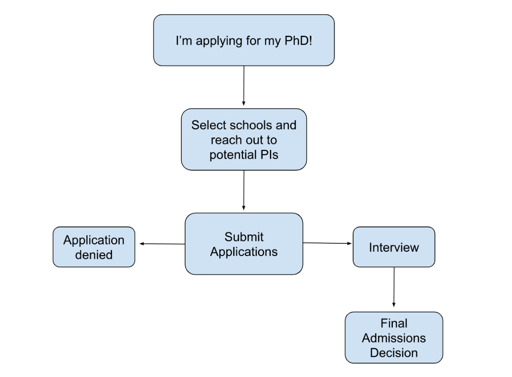 However, as simply as it seems laid out above, there are many places where the PhD application cycle becomes much more complex. "How do I reach out to potential mentors?" "Where do I start with picking universities?" and "How does COVID-19 impact all of this?" are all very valid questions, and often make an already complicated process even more difficult. I've learned that some of the technologies that helped us navigate a global pandemic can also be the thing that provides a new perspective that helps to clarify the harder parts of the application process and see if a program is the best fit for you and your goals.
Making a List of Schools
Creating a list of schools is one of the first steps in the application process and usually occurs in the few months leading up to applications opening. With virtual options, you can narrow down your list of schools by meeting with professors - a/k/a Principle Investigators (PIs) - whose labs does research that aligns with your interests and goals.
Reaching Out to Potential PIs
Even if you're applying to a school that requires its students to do rotations in different labs before selecting an advisor, it is always a good idea to introduce yourself to a few members of your desired department during the application process. Many institutions recommend that you reach out to potential advisors before submitting your application. I found this step to be incredibly useful, as it gives a more comprehensive idea of that advisor's research interests which can be helpful in creating your application to that program. An email to a potential PI should go something like this:
Introduce yourself, brief educational background, and that you're a prospective student of such-and-such university

State how you found their lab (usually through the university website or, even better, one of their papers!) and express interest in their work

Ask if they're available for an online meeting where you can further discuss aspects of the lab, research, and provide them with a CV or transcripts if requested

Thank them, and eagerly await a reply.
It's a good idea to email around three professors per program. Most applications will recommend that you name two professors in your application that you intend to work with, so reach out to three in case one isn't able to respond to your email. During my PhD application cycle, I reached out to around twelve professors and heard back from eight.
These emails don't have to be long; the idea is that the online meeting will give you a chance to get to know the faculty that you might be working with for the duration of your program and ask any questions that will help you determine if the program is the right fit. Reaching out to PIs also means doing plenty of mini-interviews; these professors will not only talk about their own interests, but will ask you questions about your research goals and education, too!
Prepping for the interview
Many universities offer free practice sessions for students doing virtual interviews, so check if yours does and then use that time! Different platforms have different quirks, so remember to practice on the program you'll be using for the interview.
Having notes close to your computer with things you want to highlight in the interview is another way to make the virtual environment more comfortable and help you to keep yourself organized. By writing down your key points and keeping them at-hand, you can quickly reference your questions about the PI's research or the name of the award you won for your conference presentation. It can help soothe your nerves and make sure you cover everything you need to during the interview.
(Virtual) Campus Visits
After receiving applications, universities typically invite a select group of students to continue the application process through a campus visit, a weekend where applications can get to know faculty, students, and each other. Before COVID-19, financial and logistical obstacles could make touring potential programs and universities stressful or simply not feasible. Through the virtual systems created and promoted during COVID-19, online meetings with current students, faculty, and staff have become a new way to allow you to get important information about the campus even if you can't visit. By talking with people at the institution, you can get a better sense of the environment of the department, the lab setting, and how students truly feel about the program and faculty. Here are some questions to consider for your online meetings:
Is this department/laboratory collaborative with other departments/laboratories?


How long is the average PhD in this department? How has the department worked with students to maintain these time goals during COVID-19?

How are students funded? Are there any financial aspects that are confusing?
During a traditional campus visit, many students will have questions about the program and having the time to ask personalized questions might be difficult. However, an online meeting with members of your desired program will allow for you to have the time and space to delve into what matters to you. It can also be nerve wracking to ask questions in front of other prospective students; an online meeting can take some of that pressure off.
This question and answer process can also help you to see if the institution is right for you outside of just the program requirements: by talking to current students about the work environment and social aspects of the department, you may find out that a program you didn't know much about could be your perfect fit! Even if you had planned a campus visit and the in-person portion got canceled, taking advantage of virtual meetings can still be a great opportunity to introduce yourself and learn more about your schools of interest.
Benefits of Online and Hybrid Options
Thanks to the much more developed virtual environment resulting from the pandemic, students who are unable to attend in-person interviews for a variety of reasons (logistical, financial, etc…) now have options to fully engage in the application process. And even if you intend to attend an interview or campus visit in person, things like sickness or scheduling issues can and do interfere with those in-person plans. Virtual options are very handy in moments like that!
For instance, during my application cycle, two schools on opposite sides of the country had scheduled visitation days during my midterm exams. Using the online format, I didn't have to worry about traveling during an already stressful time, and I was more relaxed during both sets of interviews. I also had universities change their format of interview from a travel day to an online call in response to challenges on their end. Though the quick changes in plans was stressful in and of itself, the flexibility allowed through online interviewing allowed the interviews to happen even in times of great uncertainty. Having virtual and hybrid options is more accessible, inclusive, and accommodating for everyone involved in the process.
COVID-19 has changed many aspects of academia, and the PhD application process is certainly no exception. However, using the virtual world to your advantage can strengthen your application and help you decide if a program is a good fit for you. The application process looks different than it did a few years ago, but I hope the tips and tricks above can help you navigate it in confidence.
Ashley Bastin is a first year PhD student at George Washington University whose research focuses on Drosophila-parasite pathogen interactions.
---
Topics: Early Career Researcher