---
This year, Addgene welcomes three new members to the Board of Directors: Khandan Baradaran, Frank Stegmeier, and Luk Vandenberghe. We're excited to grow the team and bring on scientists with a diverse set of experiences. Let's meet the newest board members and get to know them!
Khandan Baradaran, PhD
Khandan Baradaran's expertise in viral safety, gene therapy vector development, vaccine development, and assay technologies makes her a perfect fit for Addgene. She was Head of Quality at Dimension Therapeutics, which was acquired by Ultragenyx Pharmaceutical in 2017. As one of the original employees at Dimension Therapeutics, she helped build and grow the gene therapy division of the company.
Ultragenyx's goal is to develop novel products for the treatment of rare and ultra-rare diseases. "Today, I am a scientist that helps with different aspects of manufacturing and quality, especially with regard to compliance with health authority regulations," Baradaran says.
Baradaran's path to science began in high school. "I had a great chemistry teacher in 10th grade and then fell in love with science," she says. In 11th grade she heard a talk about Z DNA that inspired her to major in molecular biology in college. She then pursued a PhD in viral genetics.
In regards to open science, Baradaran thinks the best way to solve problems is to work together and share information broadly. "Otherwise we will all have to wait a lot longer for individual labs to come up with discoveries on their own and only share what they think will get the research funded," she says.
Baradaran met Addgene Executive Director Joanne Kamens several years ago through the Healthcare Businesswomen's Association and it was through this connection that she learned more about Addgene. "The mission to share critical reagents such as plasmids and viral stocks for researchers around the world who would otherwise have difficulty making or getting these reagents is profound."
Frank Stegmeier, PhD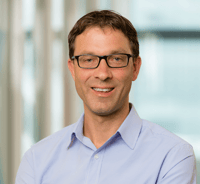 Frank Stegmeier is the Chief Scientific Officer at KSQ Therapeutics and is an Addgene depositor. KSQ uses a CRISPR-Cas9 platform to systematically test the function of all 20,000 genes in disease models and then focus drug discovery efforts on the targets that have the biggest potential to transform patients' lives. Previously Stegmeier was the Head of Oncology Target Discovery at the Novartis Institutes for Biomedical Research.
Drug development was something Stegmeier has been interested in for a long time. "At an early age, I was fascinated by the impact that medicines can have on human health. As a teenager in high school, I knew that this is what I wanted to do," Stegmeier says
He began this journey in biochemistry made the foray into genetics during graduate school at MIT. "I read some of the seminal papers on cell cycle discovery from Lee Hartwell and Paul Nurse," Stegmeier says. "They took a dividing yeast and did a genetic screen to identify the factors that regulate cell division. And that really got me hooked on genetics."
As a postdoc in Stephen Elledge at Harvard Medical School, he developed the first lentiviral microRNA-based system for polymerase II-regulated RNA interference. In the first two months since publication, the lab got over 100 requests for the plasmids and the lab eventually deposited these plasmids at Addgene.
While deposits from for profit organizations are less common, they can be very impactful. At Novartis, Stegmeier deposited the ClonTracer Barcoding Library, a library that "enables the high-resolution tracking of more than 1 million cancer cells under drug treatment."
Stegmeier especially finds the value in the wealth of resources on Addgene's website and blog important. "The experience from the scientific community gets captured," he says. "It's not just a reagent, it's an annotated reagent." He's also interested to see Addgene expand the sharing platform to other reagents in biology.
Luk H. Vandenberghe, PhD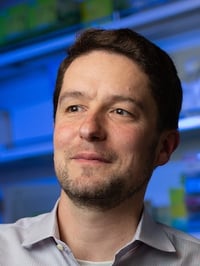 Luk Vandenberghe's first lab experience was in a virology lab at the University of Leuven in Belgium. "That's where I not only got incredibly compelled by wet bench molecular research, but also became passionate about virology," he says. He was working in an HIV lab and based on that experience, soon directed himself to finding "immunological and virological solutions to crises like those and ended up in the field of gene therapy." He's also worked on vaccines throughout that time.
Now Vandenberghe is an Associate Professor at Mass Eye and Ear and Harvard Medical School (HMS) where he leads a lab of 25 people. He also teaches at HMS and has been involved in a variety of commercialization efforts in gene therapy either through direct industry collaborations, grants, or setting up commercial and nonprofit companies.
His lab focuses on gene therapy work for genetic diseases and over the past few months, the lab began a project to develop an AAV-based COVID-19 vaccine.
Vandenberghe's work with AAVs led to many interactions with Addgene over the years. "Some of the walls we've built create inefficiencies that ultimately make innovation and science slow," Vandenberghe says. "The continuous creativity that Addgene takes to find ways to disrupt these inefficiencies is pretty remarkable. I was compelled to be part of that." He's deposited AAV constructs for gene delivery. In 2018, he interviewed Addgene co-founder Melina Fan and former Associate Director of Viral Vectors Karen Guerin for the journal Molecular Therapy.
Vandenberge is also the Grousbeck Family Chair in Gene Therapy, Director of the Grousbeck Gene Therapy Center, Associate Director of the Ocular Genomics Institute, and an Associate Member at the Broad Institute of Harvard and MIT.