By Natalie Mortenson and Laura O'Regan
Ordering jeans online from your favorite store is easy. Ordering genes on plasmids online is a little trickier -- but at Addgene, we try to make the process as smooth and simple as possible.
We are the Customer Support Specialists here at Addgene. If you've called our customer service line or sent an email to help@addgene.org, you've likely talked to one of us! Today we're discussing some of our most frequently asked questions related to the ordering process:
I placed an order through my university's purchasing system. What's the order status?
My purchasing department faxed the PO a month ago. Why haven't we received our order?
I tried searching my PO in the track order portal

and nothing shows up. Where is my order?
All of these questions are really getting at one bigger question: How does a customer place an Addgene order using a PO number?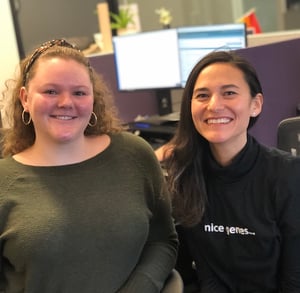 Why do I have to order directly from your website?
Many vendors will process orders based on a purchase order, which is an official document listing materials and pricing information that is sent from a buyer to a seller. However, Addgene is a bit different from other vendors. As a nonprofit, Addgene does not own the material in our repository. We distribute it on behalf of depositing institutions.
Addgene cannot fulfill orders based on PO documents that are sent to us by fax or email, or orders that are placed through internal purchasing systems. All orders must be placed directly on our website, and you will be able to enter your PO number as payment during checkout.
Placing your order online has some benefits. All of the information that is entered at checkout is used to generate the legal agreement (MTA), which streamlines the process and saves you time.
Anyone affiliated with the recipient organization can create an Addgene account and place an order: a purchasing agent, lab manager, or the end user. All updates regarding the order will be sent to the contact email addresses provided.
How do I place an order using a PO number?
Placing an order on Addgene's website is quite simple, even if you're using a PO number. Follow these steps to place an order online while using a PO number:
Log in to your Addgene account.
Add all your items to your cart.
Click checkout.
During the payment step of checkout, you will have the option to "Pay by Purchase Order." Enter the PO number you generated through your organization in this field. Please also enter the billing address for your organization.

We will contact you directly if we require a copy of your PO.
If your purchasing department requires a quote in order to generate a PO, learn more about how to create a quote.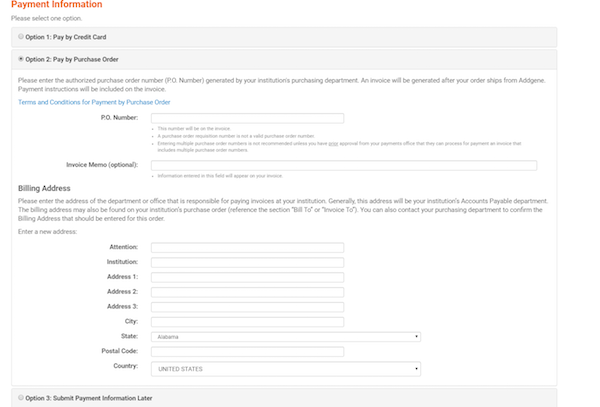 How do I pay the invoice?
After your Addgene order ships from our facility, we will send an invoice to the billing address that you listed during checkout. This invoice will reference your Addgene order number and PO number that you entered during checkout. At this time, your organization will have net 30 days to complete payment for your order.
Still have questions? Visit the Addgene Help Center
If you have additional questions about our ordering process not addressed in this article, check out our Help Center article How do I pay by purchase order (PO) number? You can find answers to other ordering questions here.
In addition to answers to common questions about the ordering process, the Addgene Help Center is full of information about how to deposit plasmids, store your plasmids or viral items, technical support, and more.
---
Topics: Addgene News, Using Addgene's Website