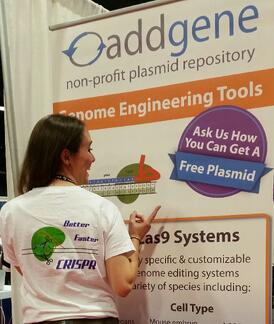 I have an important question: How much coffee does it take to fuel more than 30,000 neuroscientists over a 5 day conference? I feel like here at the annual Society for Neuroscience meeting in Washington, D.C., we must be making a dent in the global coffee supply… My back-of-the-napkin calculations put the daily consumption here at ~ 60,000 cups of coffee per day if everyone drinks 2 cups per day – which would mean ~ 300,000 cups of coffee would be consumed throughout the entire 5 day event. Though, to be fair, I think this is a conservative estimate. As a graduate student, I drank 3-4 cups of coffee a day, and I had colleagues who were much more wired. Here at #SfN14 there are thousands of posters being fueled by highly caffeinated grad students and postdocs, which accounts for many, many lattes and espressos.
The energy boost is well needed to keep up with all the awesome talks, symposiums, poster sessions, exhibit booths, happy hour socials, and late, late night socials. As a newbie to the SfN conference, I have been impressed by how the neuroscience community pulls off such an inspiring, thought-provoking, collaborative event – all while keeping the party going!
At Addgene, we've set-up an exhibitor booth in order to help scientists find the plasmids they need for their research, show labs how they can benefit from depositing their constructs to the repository, and getting feedback from our community. It has been great to hear all the words of support from scientists using Addgene in their labs.
And it has been exciting to learn about all the amazing research being done with plasmids. I heard an impressive talk about the use of optogenetics tools to inhibit epileptic seizures in a mouse model. I sat in on a symposium discussing progress made in reprogramming astrocytes to functional neurons in vivo. And I've seen evidence of the infiltration of CRISPR-Cas tools into neuroscience experiments.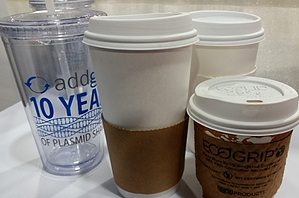 Speaking of CRISPRs, we were excited to have Feng Zhang (of the Broad Institute of MIT and Harvard and the McGovern Institute for Brain Research) – and an Addgene depositing scientist – stop by our booth to say hi! Zhang was awarded one of this year's SfN Young Investigator Awards and we couldn't wait to congratulate him on his successes.
We've been lucky enough to meet many depositing scientists at #SfN14. And we've been so happy to hear that we've been able to help their labs save time and resources by storing and distributing their plasmids with the scientific community. All of this speaks to the importance of scientific sharing to the neuroscience community. The scientists we've spoken with are excited and passionate about making such tools open-access.
Though it is time for me to refill my large coffee cup and get back to our booth, I will have more updates coming soon. Stop by booth #3431 if you're at #SfN14 and meet our Addgenie crew and sign-up for a free plasmid! Also check out the PLOS Neuroscience Community blog to read reports from bloggers at the meeting – my report is currently in the works. Or follow #SfN14 on Twitter for live tweeting updates and the latest news from attendees. And for those of you presenting, working, and networking at SfN, remember there are only 2 days left for you to make the most of this great opportunity – so if you're running out of energy, then it's time for a coffee run!
Topics: Addgene News