Looking to kick your Zoom background game to the next level? Have you been using Zoom's default backgrounds all year and want a change? Addgene has you covered. Today we're releasing 11 bold science-themed backgrounds! Show off your favorite reagent, scientific technique, or plasmid repository at your next meeting.
---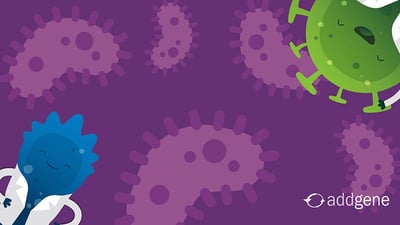 If you're reading this blog, chances are you are a fan of Addgene or our very cute mascots! Blugene has been helping us make Plasmids 101 videos and needed a break so they're hanging out with Aavery in this Zoom video background.
Want the purple bacteria video background with mascots Blugene and Aavery?
Download the 720p version or download the 1080p version or download the image background.
---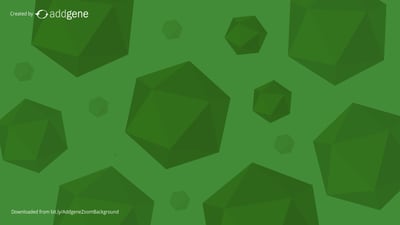 If you're working with AAV or lentivirus in your research, you might want to use one of our virus backgrounds.
Addgene's viral service provides ready-to-use AAV and lentiviral preps!
Download the green AAV background.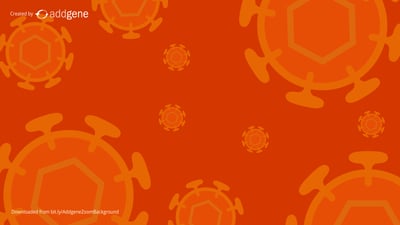 Some of our lentiviral plasmids include popular envelope and packaging plasmids as well as transfer plasmids.
Download the orange lentivirus background.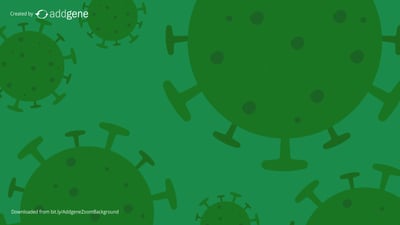 We also have ready-to-use lentiviral preps for COVID-19 research, pooled CRISPR lentiirus libraries, pooled barcoding libraries, and more.
Download the green virus background.
---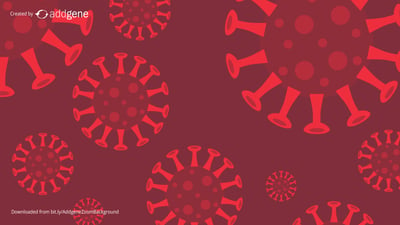 Maybe your viral research has taken you in the direction of COVID-19. We have a background for you, too!
And we have a COVID-19 and coronavirus collection page, where you can find plasmid tools to accelerate your COVID-19 research.
Download the red COVID-19 background.
---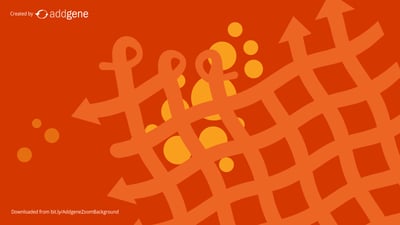 If you're predominantly a plasmid user, instead, don't fret; we have backgrounds for you as well! If you use FRET, you might be interested in our fluorescent protein background.
Download the orange fluorescent protein background.
---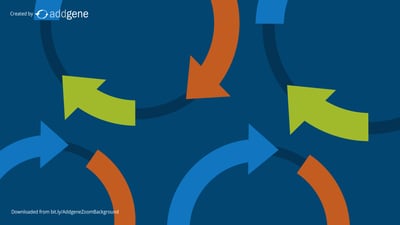 Did you get the joke? If not, you might want to check out Addgene's Fluorescent Proteins blog topic to learn more about FRET and other techniques using FPs!
Otherwise, check out our plasmid and DNA backgrounds.
Download the blue plasmid background.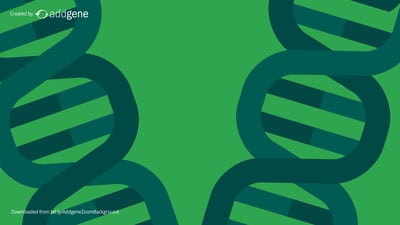 You can find all of the plasmids that Addgene offers by visiting our collections page.
Here, you can browse plasmids by field, organism, research technique, and more.
Download the green DNA background.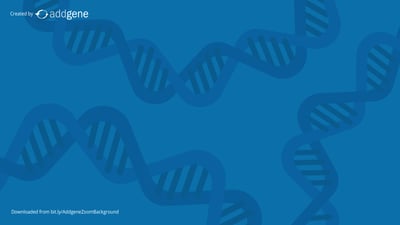 Since we ❤️ DNA at Addgene, we're presenting you with another DNA background option,
Download the blue DNA background.
Or get the same background as a video background! (720 px or 1080 px).
---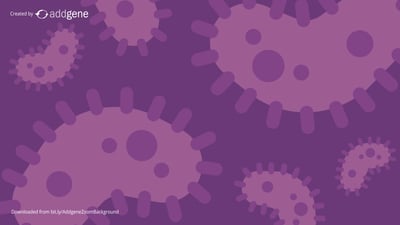 Do you do a lot of transformations with the plasmids you receive from Addgene? Our bacteria background is probably a good fit!
Did you know that most plasmids from Addgene are shipped as bacterial stabs? You can learn about what format your material will come as (and more!) on Addgene's Help Center.
Download the purple bacteria background.
---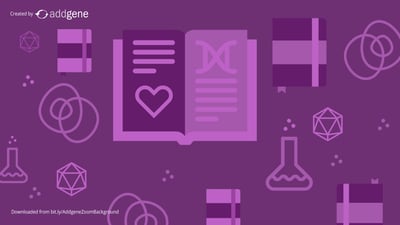 Are none of those backgrounds representative of your favorite technique? Our lab-themed background is a great fit for any scientist, whether you use molecular biology tools in your research or not!
And learn more about the variety of careers available to scientists on Addgene's Science Careers blog topic.
Download the purple lab-themed background.
We hope these science backgrounds will brighten up your virtual meetings!
Topics: Addgene News