Sleigh bells, please! It's time to announce the winners of the 2022 #DeckTheLab contest!
and it's..... Michael Früh submission, which we have entitled "Do You See What I See?"
Congratulations to all our #DeckTheLab contestants!


---
That's right, researchers of the world. Cap your Eppendorf tubes, hang up your pipettes, and seal up those plates – it's time to turn your attention to decorating! To join the contest, you need only decorate your lab, take photos, and then share them on Twitter or Instagram with #DeckTheLab and tagging us, @addgene to be judged!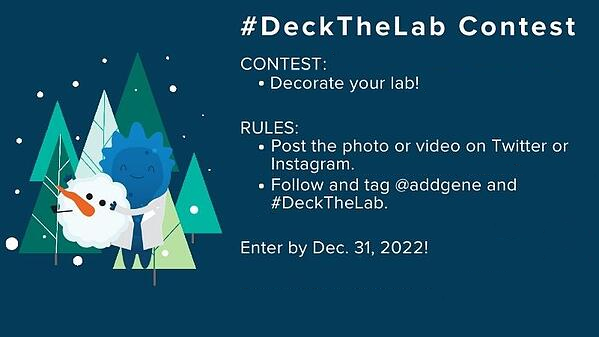 In previous years, scientists have decorated their labs with everything from Falcon tube trees to giant paper mache Krampus performing routine lab maintenance tasks. Hot tip: make sure your PI/facilities are okay with the decorations and that you're following all safety regulations. That's one sticky situation our customer service can't get you out of.
Here's how to enter:
Post your picture or video for either contest on Twitter or Instagram by December 31, 2022.

Follow @Addgene, use the hashtag #DeckTheLab, and tag @Addgene in the post!
In January, Addgenies will vote on the entries, select up to three winners, and reveal the winning entries on Twitter and Instagram! Happy decorating, all, and to all a good light!
Topics: Deck the Lab