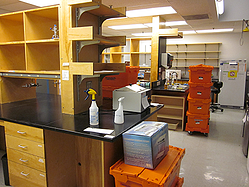 In the blink of an eye, the long days in the lab as a graduate student and postdoc come to an end and your next professional adventure begins. While many career pathways exist for scientists and engineers, a few brave scientists will choose to start their own academic research laboratory.
How does one even go about starting a lab? Obviously, funding and support are crucial parameters, and familiarity with equipment always helps. But how does one build a strong collaborative research team motivated by similar visions and goals? We continue our conversation with three PIs who have successfully built their own labs.

How did you build your lab team and foster an effective working environment?
Tom Ellis was offered a start-up package that included a postdoc and a PhD student in his first year. "It was very important to me to be with them in the lab when they started, so that we could discuss our projects and ideas every day and decide on the best way to structure roles and responsibilities as we grew." Initially, he spent the majority of his time in the lab. As time went on and he was spending more time in his office, he gradually incorporated regular group meetings, journal clubs, and focused sub-group meetings to discuss day-to-day progress, ideas, and ways to improve the lab. "An effective working environment for research is totally dependent on communication amongst the team so getting everyone talking to each other cannot be undervalued."
Connie Cepko points out the limited choices in hiring graduate students and postdocs when starting out. She advises "do not hurry to staff up the lab and to take things slowly! It is more important to carefully select first hires who are well-suited, productive, and fit well with your goals. These first hires will set the tone and atmosphere that future hires will look up to." She also recommends to seek out advice from seasoned PIs who can offer support. "It is an exciting and emotional time!"
George Church tries to recruit people who are nice as top criterion and offers advice to not rush when growing your lab. "One bad choice can be counter-productive." He also emphasizes the point to "encourage sharing - in part by having projects ambitious enough that everyone wants to recruit rather than repel and hoard."
If you've already secured a faculty position, start studying up before you begin the hiring process. Read Genevive Bjorn's "Ready, Set, Hire" on Nature Jobs for some quick advice and resources for hiring research staff. And for a more indepth resource for starting your academic lab, download Science Careers' "Running Your Lab" booklet.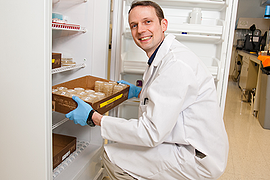 What has been the most surprising thing about becoming a PI?
Tom Ellis has a one word answer: "Email. Nothing prepared me for what a PI without a personal assistant has to deal with. My inbox currently stands at about 65,000 messages and dealing with email can be half of my day sometimes." He points out that the copious amounts of email are probably because a PI does 7 or 8 jobs: "a teacher, departmental administrator, lab and safety manager, researcher, adviser, conference planner, and writer."
Connie Cepko was surprised by the variety of skill sets she needed to acquire as a professor. "Being a PI is more than just experiments and grant writing. You have to enjoy the mentoring role." She points out that new PIs may not recognize that every graduate student or postdoc may require different types of mentoring. Some mentees prefer lots of advice and micromanagement, while others are more productive in a handsoff environment. "Treating people fairly does not mean equally."
George Church was surprised by "how much better it is once it gets fully up to speed." He also comments that it is also surprising " how easily people talk themselves out of great projects as 'impossible' or useless."
How do you run your lab differently or the same as your adviser did?
Tom Ellis merges the influence from his two PhD advisers who were "chalk-and-cheese". While one was an established Professor who was always "off flying his plane to exotic places while occasionally emailing us his worldly advice", the other was "a young PI who was in the lab with us every day and in the pub with us in the evening, wanting to know our latest results as soon as the gels ran." Dr. Ellis tries to lead his team as a scientists and a friend.
George Church runs his lab fairly similarly to his advisor Wally Gilbert: "Very interdisciplinary, with emphasis on genetic engineering, sequencing, and translation of results to companies."
Take home message
Starting a lab can be a challenging process. Each PI emphasizes the importance of slowly building up your lab and selectively picking the first couple of hires to build a strong, collaborative team. And take advantage of the many resources available from your institution, your department, and online. The Howard Hughes Medical Institute (HHMI) offers some great resources for Early Career Scientists, including their "Making the Right Moves: A Practical Guide to Scientifıc Management for Postdocs and New Faculty" downloadable book. Skip to Chapter 3 for tips on how to develop your role as a lab leader, and then on to Chapter 4 for advice on staffing your lab.
Let us know if you have any relevant tips for starting a lab. Or share your success stories below. And don't forget to stay tuned for the last post in this series "Fun in the lab!"
---
Acknowledgments
Further Reading & Resources
---
Topics: Science Careers, Early Career Researcher