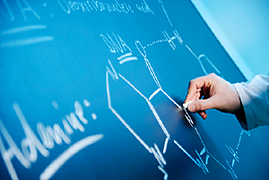 When I got the job of Outreach Scientist at Addgene, my first thought was "I get to talk to scientists from around the world making breakthrough discoveries!" I knew right then I had found my dream job, because one thing I learned in grad school was that scientists have amazing stories to share.
I spend a lot of time telling scientists about Addgene's repository, and explaining how to deposit and request plasmids, but I also spend a lot of time listening. I've had hundreds of conversations with PIs, lab managers, and grad students. We've talked about their hot-off-the-presses papers, the awesome new technology they're utilizing, and the tricks they've used at their lab benches.
It's these exchanges with leading scientists (and our growing collection of 25,000+ plasmids from 1,600+ labs around the world!) that have kept Addgene at the forefront of life sciences research for the past decade. We've also learned along the way that a connected and collaborative community makes not just for a better day at the office but for stronger science as well. This blog is our way of continuing the conversation.
Check-in with "A Better Way to Share Science" for:
The inside scoop from scientists who have deposited plasmids at Addgene. Learn how discoveries were made and get practical tips on how to use the plasmids in your own lab.
Summaries of the latest technologies and breakthrough research.
Insights about how to navigate through all stages of your career, whether you're a graduate student, post-doctoral fellow, lab manager, research technician, or Principal Investigator.
How-to guides for troubleshooting your experiments and getting better results at the bench, with a special focus on cloning and plasmid-based technologies.
Commentary about scientific sharing and the open-access movement.
At Addgene, we believe that science gets better when everyone gets involved. So join the conversation! Do you have a question about culturing iPS cells? Confused by which system to use for genome editing? Know a professor with a great story to tell? Let us know by emailing us at blog@addgene.org or tell us on Twitter and Facebook. We'll track down the story, get the inside scoop, and keep you informed.