We first "went viral" in 2016 when we introduced the viral service, and now we're "going viral" again!
#AddgeneGoesViral on Twitter
Starting today, our Twitter feed will be full of viral vector information. Each day, we'll cover a different topic as shown in the graphic below. Follow the hashtag #AddgeneGoesViral to find information on the basics of viral vectors, applications, and some new resources available from Addgene. There's a lot to talk about! And by the way, there will be viral vector jokes and comics.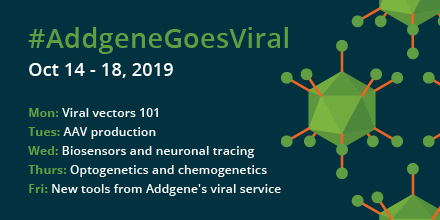 Other new resources for researchers using viral vectors
In addition to "going viral," we also have some other exciting news. Last week, we launched our new AAV Data Hub, an open platform for scientists using AAV to find and contribute experimental information, such as titer, serotype, injection site, and incubation time. Learn more about the Data Hub in this blog post.
Alongside our efforts to facilitate the sharing of reagents and data, we're also publishing research. Addgene's research team also investigates new strategies to improve viral vector production and data analysis. Our first paper came out last year on sucrose supplementation to increase AAV2 yields and we're eager to share more!
Lastly, we'll be at SfN2019. If you're attending SfN2019, stop by booth #2163 to say hi and learn more about Addgene's viral service.
---
Additional resources on the Addgene blog
Resources on the Addgene website