Did you see Blugene's make-over and our new homepage? If you've visited Addgene's homepage recently, you probably noticed some big changes to our site (if you haven't, go check it out!). After months of strategizing, designing, developing, testing - and repeat - we're proud and excited to finally share with you what we've been working on behind the scenes here at Addgene.
Addgene's new homepage
While users are increasingly accessing websites other than through the 'front door,' the homepage is still important. It needs to express value, clearly communicate exactly what a site offers to their users, and most importantly, allow those users the ability to quickly access the content they need. All within seconds.
Addgene's old homepage had been relatively the same for quite a while and hadn't kept pace with our growth over the last few years. Some of the navigation was buried on the page, and a lot of the content was either small, cluttered, or hard to find. This made the page look not only confusing, but also made it hard for users to get where they desired. It became clear to us that we needed to improve search and navigation, while also updating brand messaging, as well as simplifying the page, and making it all look clean and easy to use.
Easily search for plasmids (and more!)
The main goal for the homepage was to improve search and browse functionality. We wanted users to be able to find plasmids and viral vector tools more easily. In the redesign, the new search bar is now front and center, with a clear call to action - Search! Along with this we've also made improvements to our global navigation and menus over the past year, making it much easier to get around our site.
Community, sharing, and fun
Along with improving search and navigation, we also wanted to emphasize the values that make Addgene unique: community, sharing, and fun. The Addgene repository is built on the foundation of a community that shares reagents and knowledge with one another, and Addgene make this process easy and fun every day.
With these three main values we set out to radically redesign our homepage to reflect this message. We concentrated on what our homepage actually said, how we displayed unique content, and made a commitment to reinforcing the three values with each element. We also set out to make sure the page looked clean, professional, and modern. Instead of trying to place all of the content above the fold, we decluttered the page elements and allowed our content to dictate the space. We wanted to comfortably tell our story, to get scientists excited about what Addgene has to offer, and to help scientists find what they need - whether it's their first or 500th time on addgene.org. Additionally we also wanted to highlight our blog, daily updates, and offer better exploration throughout the site.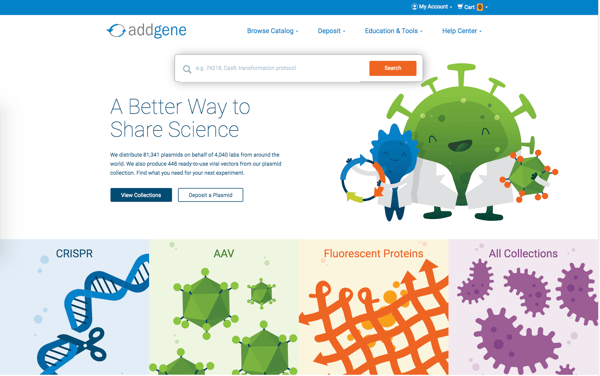 Blugene gets a make-over
You may also have noticed another big update on the homepage. Blugene, our trusted friend and mascot, has undergone a make-over as well. While in the course of redesigning the homepage, and striving to tell our story in better ways, we realized that Blugene needed the same thoughtful treatment.
Blugene has been with us since 2011, and while you may have seen our mascot at conferences, on our website, or in social media, we wanted to make sure our friend matched our core branding. Blugene needs to be friendly, personable, fun, and promote our values of community and sharing.
One big feature upgrade? Blugene now has a full expression. You'll mostly see a friendly smile, but occasionally you might notice Blugene looking sad, especially if an experiment doesn't go as planned. Blugene also has full arms so that they can hold and hug items closer and do so more animatedly. To communicate that sense of community, Blugene will regularly be paired with a variety of science-inspired friends. As you can see on the homepage, Blugene is now accompanied by an AAV friend.
We encourage you to take a look and explore the new homepage. We hope every time you come to Addgene to find the plasmid or viral vector for your next experiment, that you can find what you need and feel happy and inspired to tackle your next science challenge. If you have any feedback, please contact us and let us know how you're feeling.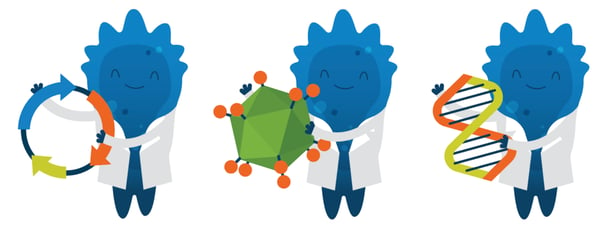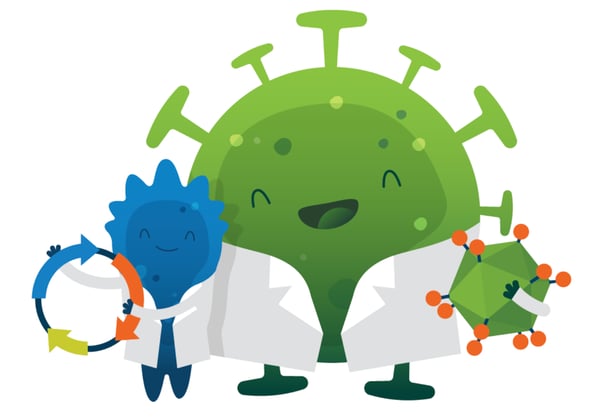 ---
Additional resources on the Addgene blog
Resources on Addgene.org
Topics: Addgene News, Using Addgene's Website