Finding the best plasmid for your research can be a daunting challenge. With over 80,000 deposited plasmids from around the world, it can be hard to find your favorite gene, promoter, serotype, or a myriad of other things. That's why we've built a new and improved search engine to help make this task a faster, easier, and frustration-free experience. Along with the updated search, we've also revamped our homepage and mascot Blugene (check back on December 5 to learn more about this!).
I've assembled a series of screenshots to highlight changes to both the design and functionality of searches.
A better way to search
First, check out the new Addgene homepage. You may have noticed the search field front and center.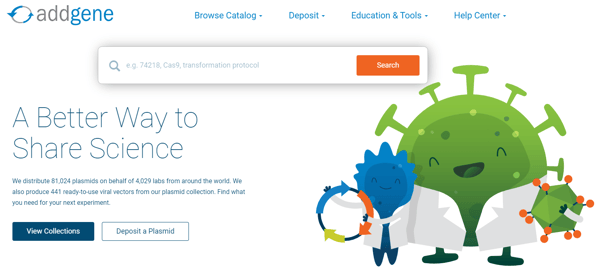 Let's type in "crispr" and see what comes up. Before even clicking the 'Search' button a new content-aware suggestion dropdown list will let you jump directly to the type of information you are looking for in our catalog or educational resources: plasmid, pooled library, blog posts, protocols, and more. Selecting crispr in Guides will return links including our CRISPR guide.

For a closer look at this new functionality and ways to navigate it, we'll search for the calcium biosensor, GCaMP, and click through to the plasmid search results:

More than 200 different GCaMP containing plasmids are available for distribution.

If your experiment involves delivering a calcium biosensor using AAV, you might decide you'd really prefer to order ready-to-use virus rather than producing and purifying it in your lab. Instead of starting a new search or clicking through to a different part of the website, you can now use the pulldown menu on the search page to quickly jump to different types of items:

Did you notice the "Filter By…" options changed when we changed from searching for viral preps instead of plasmids? The available filtering options now change dynamically based on the type of material and specific search terms used, so you will only be shown filters relevant to your current search. We'll take a closer look at filters in a moment. First, I want to highlight the convenient ways our new search tool lets you access plasmids from journal articles.
From paper to plasmid
Authors regularly indicate that their plasmids are available from Addgene in the Methods & Materials or elsewhere in their papers. Maybe they started their deposit prior to publication and were able to include specific plasmid ID numbers. If you know the ID number for a plasmid, your straightforward search is now even easier with a direct link to the plasmid page at the bottom of the dropdown list: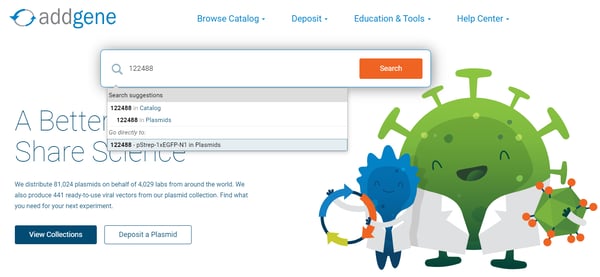 The search bar will suggest direct links to other types of searches including depositing labs and institutions. For example, search for "Melina Fan" and you'll be able to go directly to a page to see the plasmids deposited by our own CSO.
But what if you don't have plasmid ID numbers, or you aren't sure if any plasmids from a paper have been deposited? In this example we're going to be looking for recombinant monoclonal antibody plasmids from the James Trimmer Lab published in eLife.
Addgene is currently distributing 94 plasmids expressing validated antibodies for neuroscience research (see the NeuroMab Collection for details). The following screenshots show the range of different terms we can use to find materials from this publication.
Searching for the title of a paper works

You can also find the associated plasmids through the article's PubMed ID (PMID)

...or DOI

Or get some keywords close enough...

If in the past you have tried to combine multiple terms in an Addgene plasmid search and found the results confusing, I'm sure you'll find Addgene's newly launched search engine results much better. Here, I wanted to find a specific plasmid from the NeuroMab collection for an antibody against PARIS, a zinc finger protein involved in neurodegeneration in Parkinson's disease. Knowing the primary investigator where the plasmid was created can narrow your search results to exactly what you need: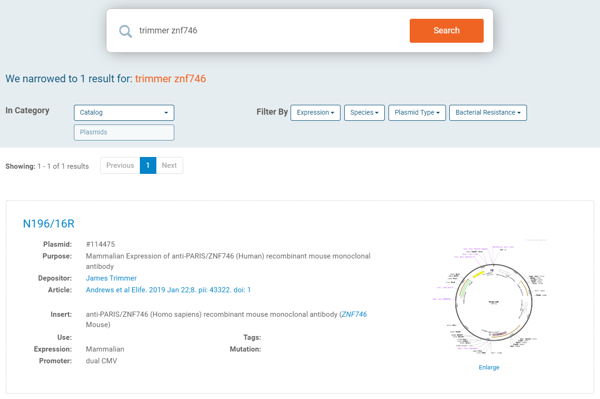 Better searching with filters
Not every plasmid search will start from a publication. You may have an idea for a plasmid that would be useful in an experiment, and want to see if someone has already created and deposited it with Addgene. Combining search terms with filters lets you drill down to the exact plasmid you need.
The ability to apply a wide range of filters isn't new to Addgene's plasmid search. The new design of the plasmid search page moves the filters from a long column along the left side of the page to a series of smart dropdown menus below the search bar. As you try different terms you may find the available categories and filters change as we now only show options relevant to your current search terms and potential results. Just as in the previous layout, the number of plasmids matching each filter is displayed in parentheses.
In this example I wanted to find a lentiviral plasmid to express ubiquitin under control of a CMV promoter. Starting with two search terms we see there are plenty of results, but I can't browse through 300+ plasmids. Under 'Vector Types' I selected 'Lentiviral' which eliminates most of the plasmids designed for other uses.


I could look through these resulting 36 plasmids and very likely find a useful plasmid, but what's popular? The coveted Blue Flame is more than an award for depositors and inspiration for our updated mascot, it's also a convenient most requested filter. Applying a second filter, this one from the 'Requests' category, will leave us with a single plasmid to consider.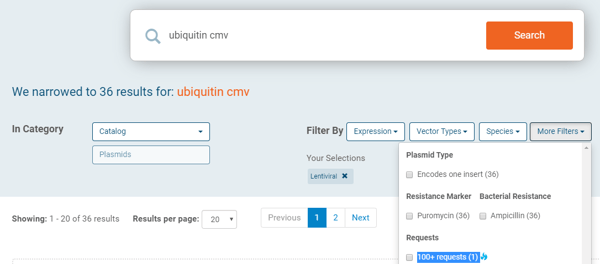 If you get this far and realize you need to apply different filters you do not need to start a new search. Simply click the 'X' next to any filter to clear it.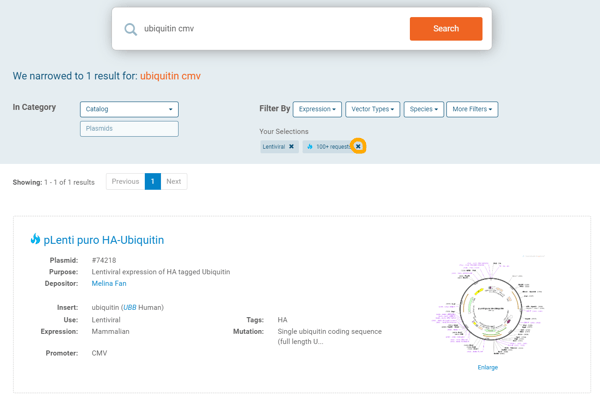 Here's a list of available filters to refine your search results to match your experimental needs. Remember, only filters with results will show up!
Plasmid filter categories
Expression: Select the model system for your research (e.g. Mammalian)
Vector Type: What type of experiment are you planning? (e.g. Retroviral)
Species: Specify the source organism for a gene insert. (e.g. S. cerevisiae)
Plasmid Type: Choose an empty backbone if you intend to clone your own insert, or use the other options to find plasmids matching your search terms with gene and guide RNA / shRNA inserts
Resistance Marker: This indicates the selectable marker used in your model system, and is different from the bacterial resistance marker used to grow plasmid containing bacterial cultures
Bacterial Resistance: Use this to choose the antibiotic resistance gene(s) used for selection in bacteria.
Has Viral Service?: Allows you to filter results to only show plasmids with ready-to-use viral preparations available
Services: If there are viruses available, this filter will allow to refine by serotype or lentiviral prep
Requests: Only see plasmids with more than the indicated number of requests
Availability to Industry: Restrict search to plasmids which can be distributed to industry research scientists
Viral prep filter categories
Promoters: Select the best promoter for your target cell type
Serotype: Choose the AAV capsid or lentiviral prep needed
Tags: Identify a specific marker protein
Use: Similar to "Vector Type" you can filter by experimental purpose (e.g. CRISPR)
Beyond search
What can you do if you don't have any specific search terms in mind? Curated collection pages made by Addgene's scientists let you browse categories of plasmids that may be difficult to define for a simple search.
These pages provide helpful information about the subject, link to related guides and protocols, and provide easy to sort tables of hand-picked plasmids. A search for "RNA editing" plasmids returns more than 1300 results, and applying a filter for "CRISPR" plasmids keeps more than half of these. Instead we can navigate first to the CRISPR Resources page:

The page links to guides, our CRISPR eBook, plasmid kits, and curated pages categorized by both functionally (e.g. Base Editing) and by target organism. Clicking through to RNA Editing brings us to a page with a basic overview and figure, followed by a convenient table of plasmids specifically designed for this purpose: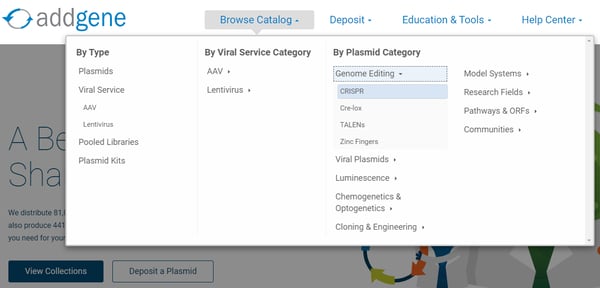 Still stumped? Ask an Addgenie
The newly launched search tool is a great improvement for our website and we hope it leads you to exactly what you need with every use. If it doesn't and you find yourself wading through the "wrong" plasmids or coming up with no results at all, let us know! Contact our scientific technical support at help@addgene.org and let us help.
Check back on Thursday for an inside look at our mascot and homepage redesign.
---
Additional resources on the Addgene blog
Topics: Addgene News, Using Addgene's Website