Getting ready for Society for Neuroscience Conference 2023? So are we! Come say hi to us at Addgene's booth, #3422, in the nonprofits section.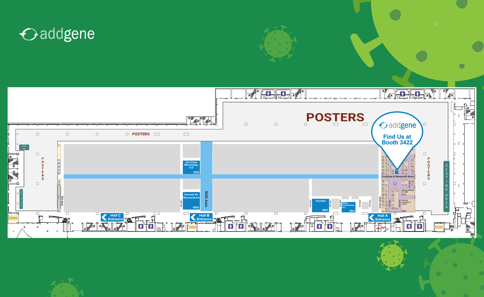 The Booth
What will you find at Addgene's booth? Well, first, Addgenies! We'll have an antibody specialist, Amrita, and a viral vector specialist, Rebecca. They will be working with Andrew, the head of our scientific support team, to tackle any experimental questions you may have. Our Director of Content, Brook, and our scientific curation manager, Angela, experts on the Addgene repository, are also attending! Finally, our team is rounded out with our science communication specialist (you'll know me by my Tweeting — er, posting!) and our favorite content strategist, Jo. While we've all got different areas of expertise, we are each equally excited to talk to you, answer any questions, and get feedback on how we can be more helpful to our community.
You'll also find tons of information about Addgene's ready-to-use antibodies, viral vectors, and, of course, plasmids! Plus, we'll be giving away fun Addgene swag for the duration of the conference (be warned, the hand sanitizer does go quickly!)

The Conference
How many Addgenies does it take to run a booth? Between two and four! So you'll also find Addgenies out and about, attending sessions, visiting posters, and leading a professional development workshop.

Specifically, Jo, Brook, and Angela are co-leading "Making a Greater Impact Using Clear and Accessible Scientific Writing" on Sunday, from 12 pm - 2 pm. If you want to learn about, and practice, principles of clear, accessible writing through the lens of alt text, we invite you to join us!
We'll also be sharing our conference experience on X, Instagram, and Bluesky.
Finally, if you're looking to brush up on your conference skills, check out some of our helpful conference blog posts before you go!

Tips to Make the Most of a Scientific Conference
Poster Session Tips

How to Make Friends and Meet People at a Scientific Conference

New to SfN? Try A Novice's Perspective on Neuroscience - SfN17!