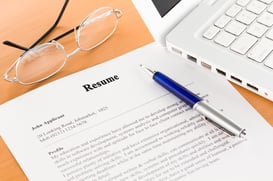 Expanding your network of relationships early and often is the most effective tactic a scientist in training can adopt to ensure opportunities in the future. Studies show that the majority of job offers arise as a result of existing professional (and personal) relationships. However, most job seekers will and should apply for jobs posted online as one part of their job search. This is especially true of scientists seeking a first job after the academic bench. Utilizing existing relationships as part of the job application process can dramatically increase the chances of being seriously considered for an open position.
Here are 6 steps to submitting a resume that will give you a chance at an interview:
1) Have an excellent resume ready to be submitted
The structure and content of a resume can be crucial for a successful application. It takes time to prepare an excellent resume…it is worth it. Read here to get help if you are having trouble preparing your most excellent resume.
2) Follow job boards and check them regularly
Use your research skills to determine which job boards list positions interesting to you. Many job postings will result in hundreds of applicants the day they are posted. If your resume is not in the first pile, it may never even be reviewed regardless of personal connections to the hiring group. Read here for more on timely submission of a job application.
3) Read job descriptions carefully
Be open minded and be bold. You don't have to have all of the listed qualifications to apply for a position. A job description is usually a wish list and the hiring manager knows that no applicant is likely to meet all the criteria. Note the criteria that you meet strongly and note the ones that you could meet with learning (scientists are trained to be good at learning new things—this is a strength you can draw on and demonstrate in your application). Beware the myths of scientist "overqualification" but it may not be productive to apply for jobs that require a bachelor's degree if you have a PhD.
4) Customize cover letters and even resumes
The cover letter must address how you are qualified and why you are interested specifically in the position. We frequently receive clearly generic cover letters that expound on bench skills and experience. Most Addgene PhD level job descriptions clearly describe that the roles do not involve bench research. I am always surprised at how many applicants ignore this in their cover letters. It is also important to express interest, even excitement, in a position. Everyone prefers to hire someone that will be excited to be there. If you are appying for diffrent types of positions (for example, bench research vs. project managment) your resume should also be customized to highlight different skills and to get the important information in the right place on the page.
5) Apply for the job as requested in the posting
Do this online and/or via email exactly as the job posting instructs even if you have a networking connection that will be helping (see below). Your resume must be in the official "system" for hiring managers to take next steps and follow up especially in large companies. It is fine to address the cover letter "To Whom it May Concern" as you will not likely know the exact person monitoring submissions (usually a Human Resources representative). Pro tip: if there is no place to upload a cover letter, make your cover letter the first page of your resume pdf document.
6) Use your network!
During the entire process, use whatever means you can to get your resume into the hands of the hiring manager on paper or as an email send directly from a mutual connection. If the organization is small, any person at the company might be able to help you. If the organization is large, you will need to be more directed and target someone in a specific department and/or location. The more people you meet the better chance you have of finding a beneficial connection. LinkedIn is one great way to find an appropriate liaison, but you can use alumni databases, friends, and even relatives to network your way to a hiring manager.
Learn to confidently describe your strengths in your resume and don't be shy about asking for help. The worst thing that can happen is someone will say no, but if you don't ask, you will never get the help that can make a difference. Having your resume forwarded personally gives you a much better chance at an interview –but you still need to nail the job yourself.
See the links in the post for additioanal advice for the science career search. You might also enjoy the other posts in the Addgene Blog Scientist Careers Series.
Topics: Science Careers, Applying for Jobs