Addgene saw big changes in 2022, from the launch of a new material to the redesign of a community resource. Now that we're in the first quarter of the new year, I'd like to take a moment to reflect on our accomplishments from 2022 and share what we're looking forward to in 2023 and beyond.
Last year, we distributed 165,000 plasmids, including 27,000 CRISPR plasmids and 6,000 biosensors plasmids. Our most exciting milestone of 2022, however, is arguably the launch of our fast-growing ready-to-use recombinant antibodies collection, currently composed of over 100 antibodies. Everything in this collection, which includes both neuroscience and general-use antibodies, is available in both trial- and full-size, with assay-supported recommended uses and education content. This work exemplifies our long-standing commitment to be responsive to the community's needs and our commitment to top notch quality service and support.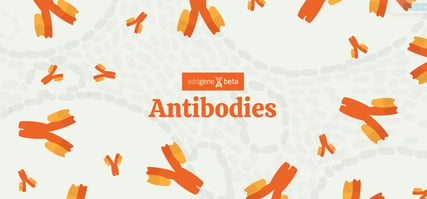 Alongside our material offerings, in 2022 we also rolled out an updated AAV Data Hub to share curated information about AAV usage in research applications. Scientists around the world can upload AAV validation data, sharing what works and, equally importantly, what doesn't. Reports receive a DOI for citation, crediting researchers when their data is used by the community to drive new science experiments.

Finally, we were thrilled by how many people accessed our freely available online collections of educational resources. In 2022 alone, our website saw 2.2 million visitors from 231 countries. Guides and protocols were our most popular content, while our beloved blog received 1.3 million page views from visitors in over 200 countries.
We, like everyone around the world, are learning to navigate the changes brought about by the pandemic. As we adjust, we are reflecting on how to help scientists in this rapidly changing environment. In particular, we are working to understand what challenges remain in materials sharing, information sharing, and research reproducibility while expanding our suite of materials and services to support more research and innovation around the world. As always, we seek to understand our role in opening up science to help create new knowledge and research opportunities.
I have spent the last 9 months quietly learning about Addgene's past and present, but the real promise of Addgene lies in our future. As we near our 20th anniversary, we have many successes to reflect upon, a wealth of history to learn from, and a compelling future to plan in the changing landscape of science. We are therefore embarking on a strategic refresh to understand this new world and our place in it. This period of careful reflection and planning will allow us to continue to serve the scientific community as we grow and change to meet its ever-evolving needs.
For now, we have many exciting things planned in 2023, from the expansion of our Data Hub to process improvements in every aspect of our organization. One thing that will remain the same is Addgene's commitment to supporting the research community through sharing science and distributing high-quality materials and information. As a scientist, I have seen both the potential and the promise of science to help a great number of people. I look forward to working with Addgene colleagues, collaborators, partners, and the larger scientific community to maximize the positive impact that science can have on the world.