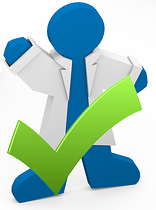 We understand - you're a busy scientist working hard on research, and you need the right experimental materials. Who has time for paperwork? Here's why a Material Transfer Agreement (MTA) matters:
Science thrives on collaboration (it's the heart and soul of Addgene's mission), but legal complexities can arise when scientists are sharing their materials. Questions about intellectual property rights, pending publications, and commercial use often come up. An MTA can resolve those questions! MTAs protect you and your institution, and almost all universities and institutions require them for material transfers.
When Addgene entered the plasmid sharing space, we heard over and over again that the legal documents were one of the biggest hurdles for scientific sharing. So we set out to streamline this process. We take pride in facilitating the exchange of not just the physical samples, but also the legal documentation that allows you to conduct your experiments with confidence.
Benefits of the UBMTA: Peace of mind
Addgene has adopted the terms of the Uniform Biological Material Transfer Agreement (UBMTA) for its material transfers. The UBMTA was drafted by the National Institutes of Health (NIH) and adopted by the Association of University Technology Managers (AUTM). This MTA provides many benefits for both the providing and receiving institutions and their respective researchers. Check out the lists below for more details.
Benefits to the provider (organization / lab that owns the material)
Affirmation that materials will only be shared with non-profit organizations

Assurance that recipient may not use the material for a commercial purpose

Assurance that recipient may not use the material in human subjects or clinical trials

Acknowledgement in recipient's future publications relating to the material

Limited liability
Benefits to the Recipient (organization / lab receiving the material)

Permission to use materials for research or teaching purposes

Rights to all research results, modifications, and inventions created by the Recipient

Right to file patent applications on modifications or inventions

Right to publish without editorial comment or review by the Provider

Limited liability
Addgene makes it easy
Even with all those benefits, we know that legal documents can get tricky. Here's how Addgene helps:
For Providers:
One-time Deposit: Simply deposit with Addgene (it's FREE!) and we'll take it from there. We will distribute your materials under the UBMTA terms, so you can rest easy knowing your rights – and the rights of your institution – are protected while we handle all the paperwork.
Record Keeping: Addgene will let you know exactly how many times your materials have been requested and by whom.
For Recipients:
Streamlined Processing: When you place an order, Addgene generates the MTA and emails it straight to you, or we can send it directly to your institution's MTA coordinator. Organizations that have opted into our eMTA system can even sign electronically or choose to auto-approve MTAs. Whatever your preference, we are here to make it fast and easy.
Fast Approval: The UBMTA used by Addgene is internationally recognized as being protective of both the providing institution and the receiving institution. Therefore, many technology transfer officers are familiar with the UBMTA and are happy to agree to it. Their confidence and familiarity with the UBMTA result in quick approvals, so your plasmid requests can get to your lab faster.
For Everybody:
Friendly Support: Have a question? Our friendly and knowledgeable staff is here to help. Contact us at mta@addgene.org or +1 617-225-9000, or check out our MTA reference pages.
So go ahead and use Addgene plasmids in your experiments. You know that they're properly covered for when you get that big result.
Topics: Addgene News