Hola! Que tal? My name is Brandon Solis, and I am a rising senior studying Sociology and Dance at Skidmore College. I was also Addgene's Marketing Intern this summer! With the help of Project Onramp, I was able to gain access to an internship on the journey to full-time employment. I have always been interested in the ways that I could change the world around me. My strong interest in the intersections of media, art, and society made me intrigued by the marketing internship at Addgene. Although my interests are very clear, I had no idea how to translate them into real world careers. I figured this internship would be a perfect way of exploring my different interests but also a way of challenging what I am used to.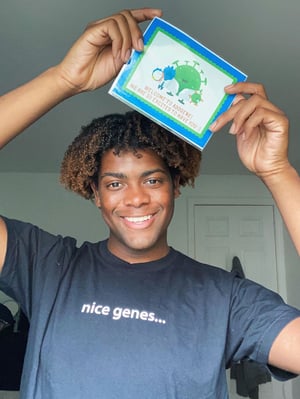 Brandon Solis, marketing intern.
Something that I struggle with as I've been thinking about my career options is being an overthinker. Being an overthinker can make me scared of taking risks, afraid of leaping forward but I have learned to push myself to the forefront, no longer allowing myself to just simply exist without creating a storm. Given all the options out there, I was certain I would not end up in a life sciences career but life has a way of making unexpected decisions. As someone who was not necessarily a fan of the sciences, I knew I would run into some challenges during my internship, but nothing could have prepared me that those challenges would be from doing a remote internship during a pandemic.
Before I knew how bad COVID was getting, I was hoping to walk into the Addgene office my first day and meet everyone but this never happened. I actually started at a later date and worked entirely virtually. Stepping into this new virtual world, I was worried about how my ideas would be translated through Zoom calls and Google docs. I pondered on the ways that I wouldn't have the same experience as actually being in the office. However, after my orientation on July 6th I was a little more certain that I was being led down the right path. The frequent Zoom meetings helped me communicate my ideas. I was able to express my visions for what my Instagram posts would look like. While working remotely was a different experience, It was helpful to have Addgenies reassure me that someone would always be there to help me.
As the Marketing Intern, I was tasked with continuing Addgene's Meet an Addgenie Series on Instagram. I interviewed fellow Addgenies about their role in the company. One of the things I wanted to do was create content that was unique but also brand friendly. I introduced the team to a new design program, Canva, and I was able to create cute and on-brand templates for these posts.

Some of recent Meet an Addgenie posts on Instagram!
From this project, I observed what it was like to work at Addgene. This is exemplified in my work interviewing fellow Addgenies. I spoke with amazing people that were a part of the different departments of the company. I asked questions relating to their roles at Addgene. I had a great time speaking with Quintin Marcelino who is Addgene's Science Video Production Specialist and Arthur Guerra who is a Customer Support Specialist. Both of these Addgenies really made me think about my future. They made me rethink having a structured career because our mindsets and needs can change. Having been at Addgene for a month, I can say with certainty that Addgene is a company that cares - not only in terms of its employees but in general about anyone who steps foot through their door.
In my case, I virtually stepped through the door into a community. As an intern, I was invited to speak to other Addgenies. I could take an active role in the company and not just feel like an additional person each day. It felt like I could actually make connections with people. These were some of the things that really made me feel welcomed. I wasn't just an intern but I was an Addgenie.
I thought about all that could go wrong with this internship but in the end it turned out to be an amazing experience. I am thankful to have been given the opportunity by Addgene. I have met some of the most genuine people who have shared amazing advice with me. Due to my experience at Addgene, I am excited to see what my future looks like.
Topics: Inside Addgene, Addgene News