Over the past decade there has been a shift in how science is perceived - where once science was only seen as a serious academic subject, it is now being appreciated on an aesthetic level as well. Beautiful microscope images which traditionally languished in the pages of thick textbooks are now liberated to adorn the walls of universities and the front pages of newspapers. Science is now being adapted to inspire to a new generation.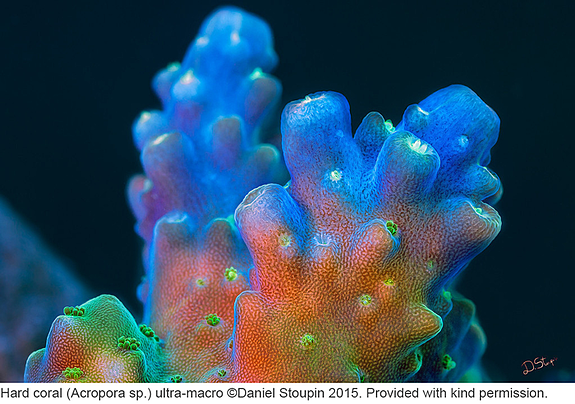 Daniel Stoupin is a PhD scientist and photographer based at the University of Queensland, whose outstanding marine photography has attracted much attention over the past few years, including an article in the BBC Wildlife Magazine. It is easy to see how these incredible images are attracting so much attention. When I spoke with Daniel about the interplay of these two ideas he said "science is a form of art to me… The problem is that scientists sometimes forget how to communicate about their work with non-academic people." Daniel went on to discuss his work: "Macro photography has been my passion for a while - a tool to expand perception, which is ironically what science is about. For me it is essential to stay in touch with the living organism I study, to be able to see it all scales. Most modern biologists focus on one aspect alone. They can study molecules, analyze terabytes of information on black screens, but not to know even the life cycle of the creature they deal with." So photography can be used as a way to better understand and appreciate the organism, for both scientist and non-scientist alike. "The other thing photography has shown to me - it requires an awful amount of skill, time for which most researchers wouldn't have. They are motivated to get data, publish in time, defend the thesis, etc. Photography is critically important in many fields of biology and I believe it could have made the difference in some areas of conservation." Appreciating science as an artform taps into an emotional response within the viewer, which could promote conservation efforts, as the subject matter is seen to have increased value and is appreciated by a wider audience for more than just its biological importance. More of Daniel's stunning work can be found on his website http://www.microworldsphotography.com/.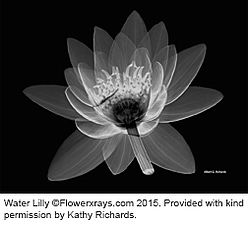 Another artist who spent his life blurring the lines between science and art was Albert G. Richards, who passed away in 2008. His work exposes and explores the hidden structures within flowers with the use of x-rays. His haunting images have been enchanting people for years and have gathered much acclaim - including being featured in the National Geographic and Smithsonian Magazine, where the editor stated "Albert G. Richards, a teacher of dental radiography, had focused his x-ray machine not on teeth, but on blossoms, thus revealing the startling inner beauty of familiar flowers."
This new x-ray technique provides scientist with a new method to explore the inner structures of delicate plants and other organisms without destroying the original, which could provide a new tool to study old and unique samples, such as those collected by Darwin on his voyage. Previous destructive techniques were incompatible with the need to conserve these unique samples, meaning that we know very little about these specimens - especially those which are now extinct. A collection of Albert G. Richards' work is held by The Museum of Jurassic Technology in LA, where it is currently on display.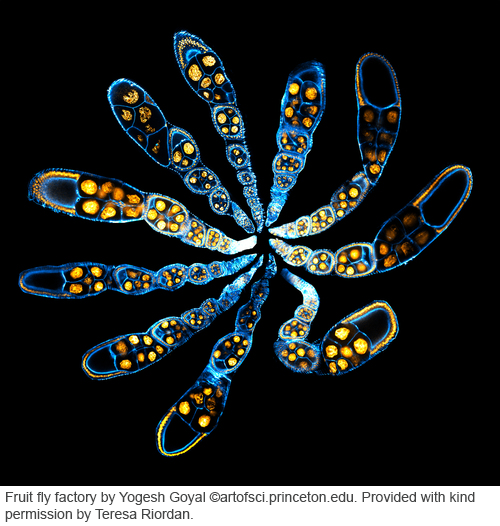 Many universities are now following the trend and encouraging departments to showcase the work of students and staff by holding scientific art competitions where creations can go on display for all to enjoy. The largest competition of this kind is Princeton University's Annual Art in Science competition. This competition has gained so much public interest for its stunning images that is has been featured in Time magazine . Other smaller competitions are now taking place and gathering momentum, including in Cambridge and Bristol. If you're a scientist who spends many hours at a microscope, you too can become an artist. Scientists moonlighting as artists can compete in the Nikon Small World Photomicrography Competition - a 40 year old international competition that last year received over 2,000 entries.
Do you mix your passion for art and science? Do you look for the beauty in the microscopic organisms on your lab bench? Let us know in the comments.
---
Additional Resources on the Addgene Blog
Resources on Addgene.org