Updated April 21, 2020
Picture this: you're a busy scientist anxiously awaiting the arrival of the newest plasmid you requested from Addgene...the plasmid that will help you run that last additional experiment requested by Reviewer #3. But why isn't the plasmid here yet? A quick look at your order status on addgene.org identifies the hold-up. Your Material Transfer Agreement is stuck in "pending." Fear not, there are many ways we're trying to make MTA turnaround faster with technology transfer offices (TTOs). The latest of these efforts is the Golden Stopwatch Award to celebrate exemplary TTOs.
Our new Golden Stopwatch Award recognizes those TTOs with outstanding material transfer agreement (MTA) turnaround times: less than two days for material requests and less than one week for material deposits. We were excited to deliver the very first ones in person by our own Tech Transfer Team!
Why MTAs Matter
Though they may seem like boilerplate drudgery to some scientists, MTAs are important—they guarantee certain rights and protections for depositor and requestor alike. That's why Addgene works closely with TTOs to help protect our depositors' intellectual property, and to help requesting institutions safeguard themselves from undue liability.
Before Addgene can begin distributing a material, a deposit agreement must be put in place. And subsequently, every time that material is requested, a material transfer agreement (usually) must be executed. The Golden Stopwatch Award highlights TTOs that accelerate science by processing agreements quickly! If your TTO receives a Golden Stopwatch, consider sending an email to thank them--after all, they have taken steps to get you your research materials as quickly as possible.
(To learn more about why MTAs matter, check out another blog post: Why Do I Need an MTA Anyway?)
Don't want to wait? Talk with your TTO
Has a pending legal agreement ever delayed your access to necessary research materials? If so, you should always talk to your institution's TTO or legal office first. Generally, Addgene is also waiting to receive that legal agreement. Below, you will find some easy talking points for broaching this subject with your institution's tech transfer professionals:
Describe to your TTO how unprocessed agreements slow down your research; provide specific examples if possible
Tell them about the Golden Stopwatch! Any organization that deposits with and/or requests materials from Addgene can qualify. We also reward improvement against one's own record
Mention Addgene Master Agreements. By default, your TTO must sign an agreement each time a material is being requested or deposited. But, with our respective Master Reception and Master Deposit Agreements, your TTO signs each agreement just once, covering nearly all future requests/deposits. This reduces the processing time of request MTAs and deposit agreements to basically instantaneous in many cases.
Suggest that they get an Addgene account for Tech Transfer Offices. They're packed with tech transfer resources (summaries, electronic MTA approval, archive of old MTAs, and more)
Does your TTO have a question? Refer them to Addgene's Tech Transfer Team: techtransfer@addgene.org
Congratulations to the Golden Stopwatch awardees!
Congratulations to all of the winners so far! Don't see your organization below? Don't worry--we check periodically for possible new awardees, and we're happy to share stats and strategies with tech transfer offices. Drop us a line at techtransfer@addgene.org.
Albert Einstein College of Medicine
Baylor College of Medicine
Boston Children's Hospital
Brandeis University
Broad Institute
California Institute of Technology
Cold Spring Harbor Laboratory
Dana-Farber Cancer Institute
Fred Hutchinson Cancer Research Center
Memorial Sloan-Kettering Cancer Center
Monash University
Montana State University
National Institute of Diabetes & Digestive & Kidney Diseases (NIDDK)
National Institute of Genetics
National Institute on Drug Abuse (NIDA)
Northwestern University
Princeton University
Purdue University
Rockefeller University
Salk Institute for Biological Studies
The Scripps Research Institute
St. Jude Children's Research Hospital
Stony Brook University
University of British Columbia
University of California, Irvine
University of Massachusetts, Worcester
University of Nebraska Medical Center
University of Pennsylvania
University of Utah
University of Washington
Vanderbilt University and Medical Center
Weizmann Institute of Science
Whitehead Institute for Biomedical Research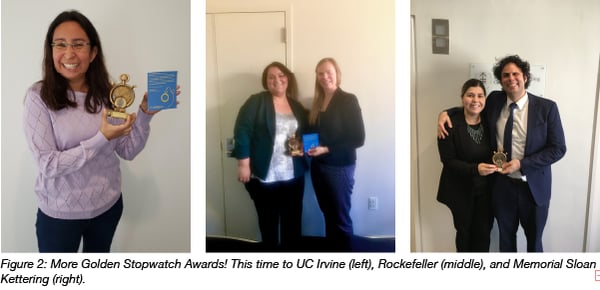 ---
Glossary
Master Deposit Agreement: An agreement, executed between a TTO and Addgene, whose terms apply to all future deposits of materials with Addgene
Master Reception Agreement: An agreement, executed between a TTO and Addgene, whose terms apply to all future materials requests from Addgene
MTA: material transfer agreement
Technology Transfer: the exchange of intellectual property (as inventions, ideas, plasmids) among universities and other research institutions
TTO: Technology Transfer Office. Some synonymous terms include: legal office, office of sponsored projects/research, office of knowledge transfer, office of commercialization
Additional resources on Addgene.org
Topics: Addgene News