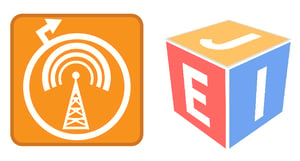 In this episode of the Addgene Podcast, we introduce you to the Journal of Emerging Investigators, an open-access journal that enables high school students to publish peer-reviewed scientific research. You'll meet some of the folks behind the journal and hear from a fantastic team of high school students who recently submitted to the journal with funding from Addgene.
Listen to the interview with the Journal of Emerging Investigators
Podcast breakdown
Intro
Chapter 1 - Introduction to Mark Springel, Olivia Ho-Shing, and the Journal of Emerging Investigators.
Chapter 2 - Getting high school students and teachers interested in JEI (the importance of word of mouth and personal networking!) and the manuscript review/submission process at JEI.
Chapter 3 - JEI target audience and their current readership. Encouraging students to do science anywhere.
Chapter 4 - JEI's mission and how they assess whether or not their achieving it.
Chapter 5 - JEI's future - getting more involved in the classroom by building curricula and developing one-on-one mentorship programs.
Chapter 6 and Outro - Interview with high school student researchers Arooba Ahmed, Jiachen Lee, and Jillian Parker who published their work on a protein required for cytokinesis in JEI. Developing an interested in biology, working in a lab for the first time, and thinking about the future.
---
Many thanks to our guests,Olivia Ho-Shing, Mark Springel, Arooba Ahmed, Jiachen Lee, and Jillian Parker!
Special thanks to our sound engineer/producer, Eddy Page!

Edward B. Page is a Digital Media Production Specialist at Addgene. He is the audio engineer and producer for the Addgene Podcast.
Additional Resources from the Addgene Blog
Resources at Addgene.org