These are stormy times. It feels like we're being buffeted by wind and waves and sometimes wonder if we can take another blow. Back in March, we never expected to be in this here and now. Our closure was earlier than most companies. Since the start of this crisis, we've been very responsive to the mood of the Addgenies — and they were very anxious at this point. Here's the message I shared with the Addgenies on March 11, 2020 after rumors spread in our building that someone from a different company had tested positive for COVID-19 (it turned out to be an unfounded rumor).
"Very unfortunately we believe it is best to further reduce onsite operations for the coming week. In an abundance of caution we are going to go into 'snow day mode'. That is, all work from home as you are able... Thanks to everyone for being awesome during a tough time. We're all going to get through this and have one heck of a party when it's all over."
And we sent the Addgenies home.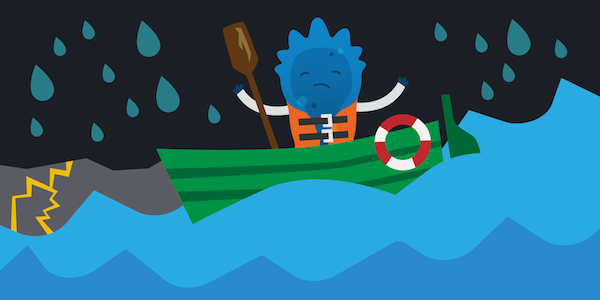 At the same time, as Addgene started dealing with this new reality of working remotely, scientists around the world mobilized on COVID-19 research, cures, and diagnostics. Almost immediately we began to receive urgent requests for access to coronavirus-related plasmids and to receive important coronavirus-related deposits. Our valiant lab and shipping staff agreed to come in and start getting plasmid deposits into the collection and to start shipping. They created the best safety protocols they could with limited guidance. We were also dealing with pending orders, but most labs around the world were closed and not receiving packages. So the entire team mobilized to figure out how to deliver when labs finally opened.
I was awed by the teamwork and initiative it took to make all this happen with 80% of the team working remotely. We're extremely proud of the work we've done to support COVID-19 research. Our collection of available materials is growing along with a centralized information resource for scientists studying the coronavirus. Addgene's Technology Transfer Team also moved fast to ensure that the majority of deposited materials to study SARS-CoV-2 would be fully open and available to industry requestors as well. This is a time when we need as much open science sharing as we can get.

The effects of Addgene's brief shut-down and the subsequent fluctuations in distribution.
I don't have space in this blog to call out every Addgene Team because they're all doing amazing work during this difficult time. One function that rose to the challenge was our Finance Team. With Addgene closed for almost two weeks and with labs worldwide closing for unknown amounts of time, we were facing a financial crisis. As a nonprofit organization, Addgene charges enough for our services to run our operations. We don't raise money except occasionally for capital equipment or resources needed to launch a new service or product. Our daily operations for all ongoing processes are entirely self-supporting. We hire more staff as we need them to meet demand and to serve the scientific community.
With the dramatic reduction in distribution, we had to figure out a way to maintain our services during the crisis and maintain our workforce for when we need to be working at full capacity to serve the scientific community. First, we applied for the government sponsored Paycheck Protection Program loan and received enough funds to make most of our payroll for the spring and early summer months. We are also extremely grateful to the grant officers at Fast Grants. We received a miraculous grant from Fast Grants, which was approved in a matter of days because they grasped the crucial role Addgene plays in accelerating research. Yet this was still not enough to ensure we could keep up with demand and keep new projects on track to succeed at the same time.
I began approaching science funding organizations to request support for our operations until our normal work resumed. Addgene distributes and fulfills requests for scientists doing almost every type of biomedical science research. Our work accelerates and enhances productive collaborations as well as provides visibility for grant-driven research being done in all labs sharing materials via Addgene. Perhaps if each of many grantors supporting research could provide Addgene with a small amount of funds, the community as a whole could support Addgene as we have been supporting the community. While many were sympathetic to this need, we're incredibly grateful that the Chan Zuckerberg Initiative was able to step in to be our "port in the storm."
"Addgene is a unique resource for scientists that helps them share reagents — leading to open, reproducible science," said CZI Head of Science, Cori Bargmann. "CZI is especially proud to support Addgene now, when their distribution of plasmids for COVID-19 research is accelerating essential research in laboratories all around the world."
We thank the Chan Zuckerberg Initiative for supporting Addgene by providing a generous grant. This support will enable us to continue all operations and projects to serve the needs of scientists worldwide with Addgene's traditional excellence through whatever lies ahead this year.
We can see signs of the storm passing. We've recently piloted Addgene's new cloning grade DNA service, and viral vector distribution is recovering from the pandemic-related slowdown. More scientists are sharing plasmids and other reagents every day, and this crisis has highlighted the importance of access to quality materials and data. Addgene has some exciting new projects planned, and we look forward to supporting scientific sharing of materials for the foreseeable future.
Topics: Addgene News, COVID-19