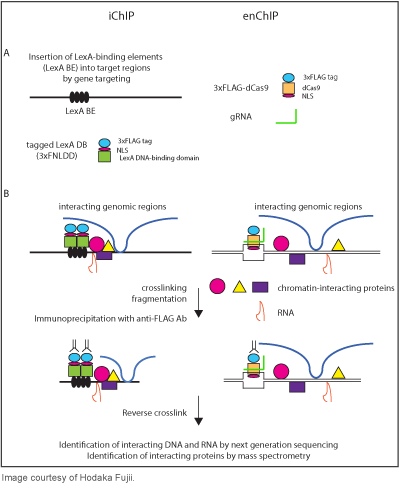 Hodaka Fujii, M.D., Ph.D., is an Associate Professor at Osaka University. The Fujii lab specializes in developing novel technologies to analyze molecular mechanisms of genome functions such as epigenetic regulation and transcription by using locus-specific chromatin immunoprecipitation (locus-specific ChIP). These methods consist of insertional chromatin immunoprecipitation (iChIP) and engineered DNA-binding molecule-mediated chromatin immunoprecipitation (enChIP), both developed in the lab. In June 2014, Dr. Fujii joined Addgene's Advisory Board.
Addgene: Your lab has worked extensively with enChIP systems. Can you describe this technology and its advantages?
Fujii: In the last several years, my lab has been working on development of technologies for biochemical analysis of genome functions such as transcription and epigenetic regulation. To elucidate molecular mechanisms of regulation of genome functions, we need to identify molecules associated with specific genomic regions of interest in a non-biased manner. To achieve this goal, it is necessary to isolate specific genomic regions while retaining molecular interactions.