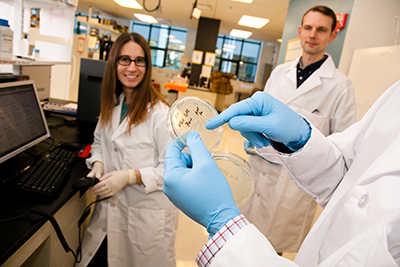 We'd like to thank all of the contributing Addgenies that made this eBook possible: Melina Fan, Matthew Ferenc, Larissa Haliw, A. Max Juchheim, Caroline LaManna, Margo Monroe, Kendall Morgan, Jason Niehaus, Marcy Patrick, Lianna Swanson, Julian Taylor-Parker
We'd also like to thank our guest contributor: Gal Haimovich of greenfluorescentblog.org for helping us explain why things glow!
Addgene's Plasmids 101 eBook is here: Enjoy more time developing clever experiments and less time researching basic plasmid features – download the Addgene Plasmids 101 eBook!
Our goal was to create a one-stop reference guide for plasmids. We've combined our Plasmids 101 blog posts from the last year with some additional resources to create one downloadable PDF you can save to your desktop for easy reference. Highlights include our guide to fluorescent proteins, information about promoters and ORIs, and tips for naming your plasmids.