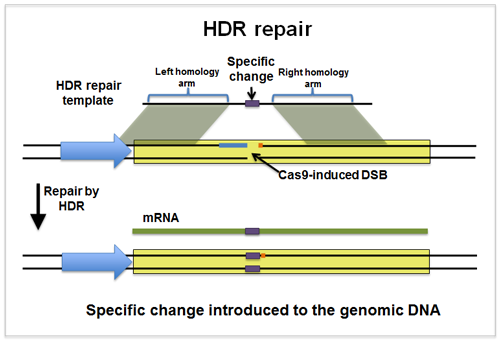 This post was updated on November 3, 2017.
DNA lesions are sites of structural or base-pairing damage of DNA. Perhaps the most harmful type of lesion results from breakage of both DNA strands – a double-strand break (DSB) – as repair of DSBs is paramount for genome stability. DSBs can be caused by intracellular factors such as nucleases and reactive oxygen species, or external forces such as ionizing radiation and ultraviolet light; however, these types of breaks occur randomly and unpredictably. To provide some control over the location of the DNA break, scientists have engineered plasmid-based systems that can target and cut DNA at specified sites. Regardless of what causes the DSB, the repair mechanisms function in the same way.
In this post, we will describe the general mechanism of homology directed repair with a focus on repairing breaks engineered in the lab for genome modification purposes.